We do not diagnose disease or recommend a dietary supplement for the treatment of disease. You should share this information with your physician who can determine what nutrition, disease and injury treatment regimen is best for you. You can search this site or the web for topics of interest that I may have written (use Dr Simone and topic).  
COVID-19 BIOWEAPON
1925 – Protocol for the Prohibition of the Use in War of Asphyxiating, Poisonous, or other Gases, and of Bacteriological Methods of Warfare (the Geneva Protocol)
Dec 1980 –

Bayh-Dole Act

signed into law – allows federally funded scientists to patent and financially benefit from their findings.  
1999 – After Microsoft was charged with monopoly practices, Bill Gates dealt with the negative press by re-branding himself and started his Foundation in 1998 and then started the Global Alliance for Vaccines and Immunisation (GAVI) in 1999 – an international organization dedicated to "immunisation for all" and vaccine market shaping. 
CDC files patents to control:
1) the viral disease, the virus (Patent 7,220,852)
2) its detection and a kit to measure it (Patent 7,776,521)

April 12, 2004 – US Patent 7,220,852 filed for "a newly isolated human coronavirus (SARS-CoV), the causative agent of severe acute respiratory syndrome (SARS). Also provided are the nucleic acid sequence of the SARS-CoV genome and the amino acid sequences of the SARS-CoV open reading frames, as well as methods of using these molecules to detect a SARS-CoV and detect infections therewith. Immune stimulatory compositions are also provided, along with methods of their use."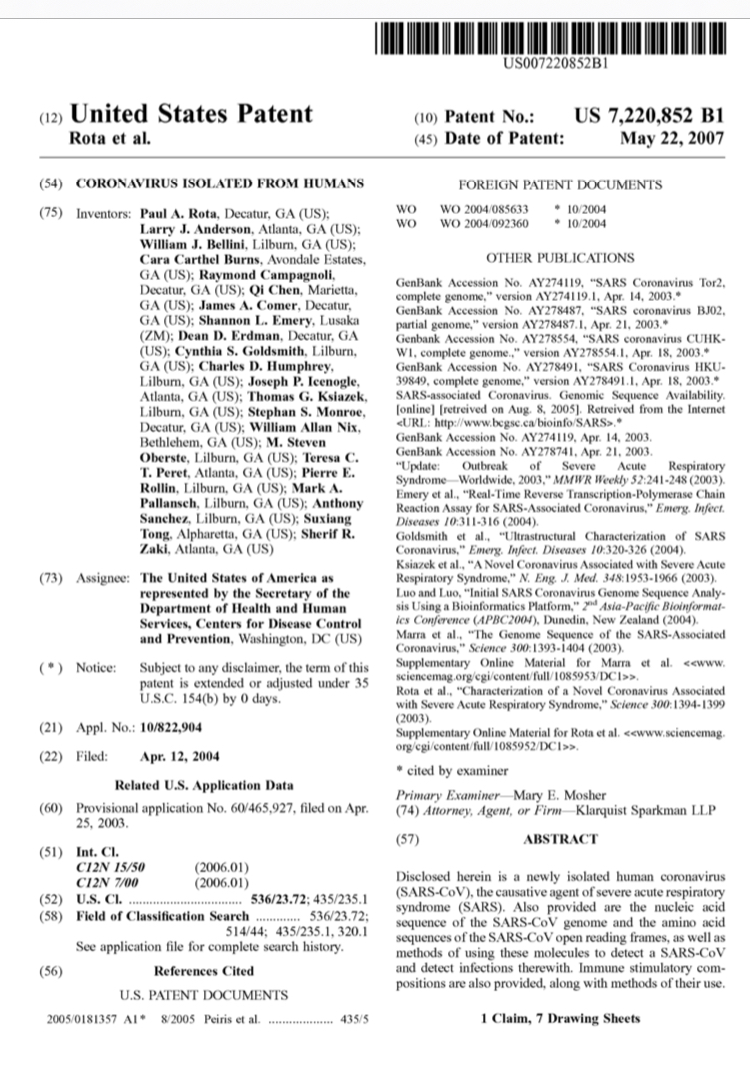 https://patentimages.storage.googleapis.com/6b/c3/21/a62eb55a0e678c/US7220852.pdf
May 14, 2007 – US Patent 7,776,521 filed
for SARS-CoV detection and a kit to measure it.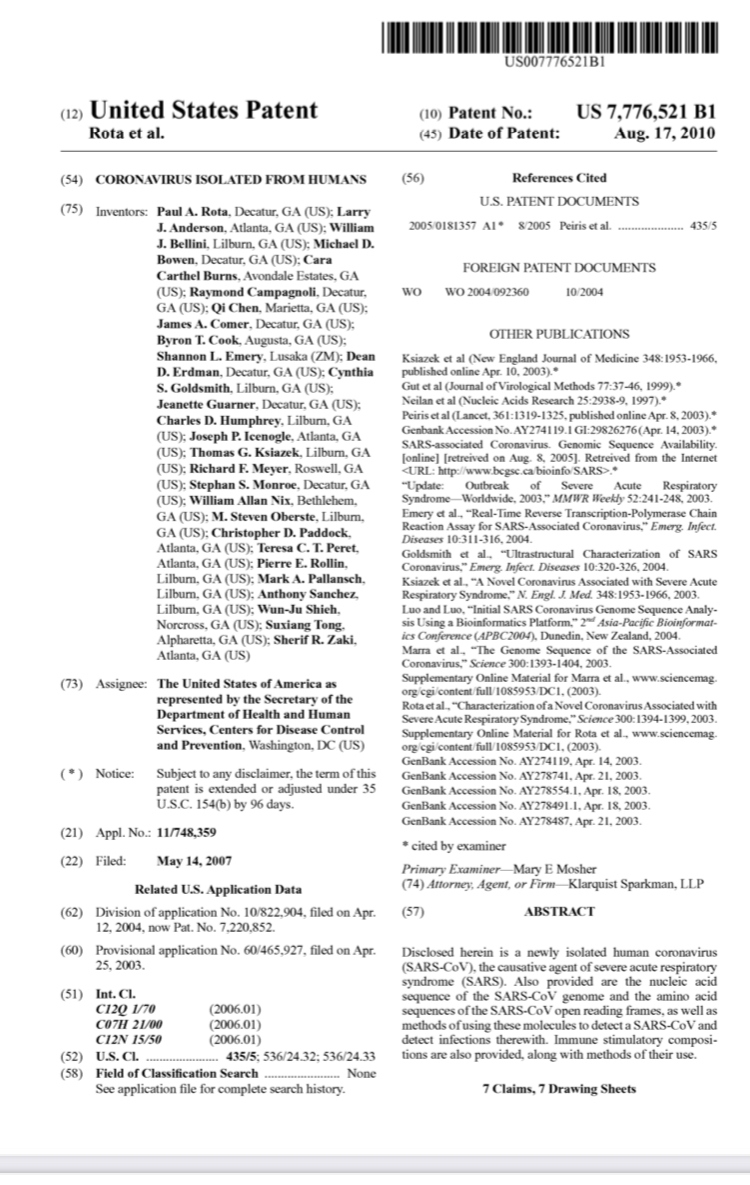 May 14, 2007 –
The CDC filed a petition for "non-publication" to keep their application confidential. The CDC controlled who was allowed to make inquiries.  This gave CDC total control over the virus information and monetary control, including the ability to monetize vaccines even though CDC showed in 2005 that
Chloroquine is a potent inhibitor of SARS coronavirus infection and spread
. 
2004 – The Wuhan Institute of Virology was started as a joint project between France and China.  
France provided the lab's design, biosafety training, its technology, and fifty French scientists, giving the Chinese 1 million Euros per year for five years for the French scientists. 
2015 – China stopped cooperating with the French in building and operating the lab. French intelligence officials warned the U.S. State Department and their own foreign ministry of this action. 
2017 – the French were asked to leave the lab and all cooperation stopped. The French warned the U.S. State Department that they had grave concerns that classified research was happening for the Chinese military. 
August 22, 2005 – "Chloroquine is a potent inhibitor of SARS coronavirus infection and spread." 

Virol J.

 2005 Aug 22;2:69.
This paper is from the Division of Viral and Rickettsial Diseases, Centers for Disease Control and Prevention, Atlanta, Georgia 30333, USA.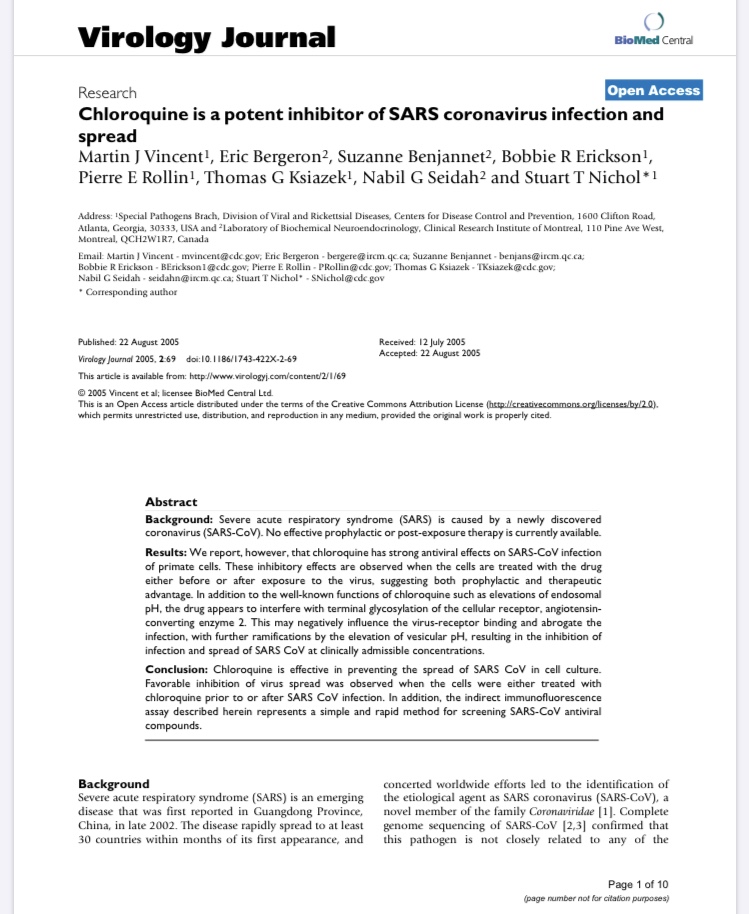 2007– "Chinese government, the People's Liberation Army and people at Xi Jinping's level write in non-classified publications that genetic warfare and biological warfare are the future of war and in some ways even go beyond nuclear war." 
Interview on March 12, 2021: David Asher, Hudson Institute, formerly U.S. Department of State where he 'spearheaded a task force looking into the origins of 

COVID-19 and the role of the Chinese government.'

  https://www.youtube.com/watch?v=Ltxwq1-UXwc
COLONEL SHI  ZHENG-LI VIROLOGIST AT WUHAN INSTITUTE OF VIROLOGY
2004 – because of the SARS outbreak in 2003, the NIH funded Shi Zheng-Li to prevent the next pandemic.
FUNDING: NIH/National Science Foundation RO1TWO5869; John E Fogarty International Center at NIH; V. Kann Rasmussen Foundation in New York
Chapter 6: Rapid Medical Countermeasure Response to Infectious Diseases: Enabling Sustainable Capabilities Through Ongoing Public- and Private-Sector Partnerships: Workshop Summary. (© 2016 US National Library of Medicine)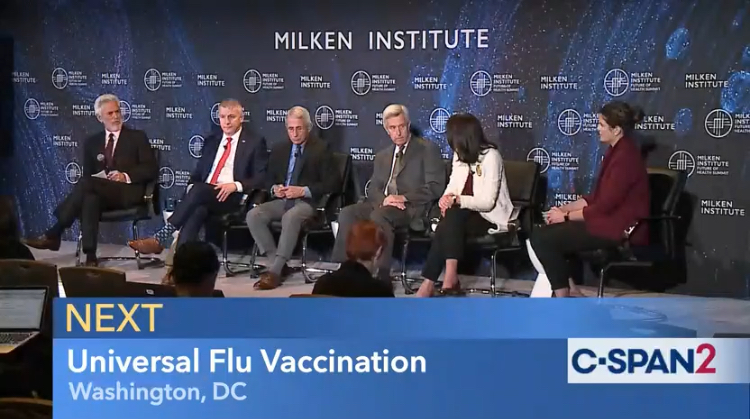 December 9 and 10, 2019 – Peter Daszak deleted tweet of Conference he attended and introduced Shi Zhengli at the Nipah Virus International Conference in Singapore. The session was co-hosted by the Coalition for Epidemic Preparedness Innovations (CEPI), Gates Foundation, and organizers were the World Health Organization and the National Institute of Allergy and Infectious Diseases. At that Conference Daszak openly discussed Gain-of-Function and coronaviruses.
May 13, 2021 – Daszak welcomed Fauci's announcement that there could soon be a universal COVID vaccine for all future coronaviruses based on joint research conducted by EcoHealth Alliance and the Wuhan Institute of Virology. 
May 19, 2021 – Republicans on the House Intelligence Committee say there is "significant circumstantial evidence" that the COVID-19 outbreak came from a leak at the Wuhan Institute of Virology.  "There are "clear signs" that U.S. government agencies and academic institutions "may have funded or collaborated in Gain of Function research" at the Wuhan Lab, claiming that research "was published even after the U.S. government had paused these kinds of studies. 
May 20, 2021 – CCP linked Professor Chen Ping of Fudan University admits that COVID-19 was "biological war" against the U.S. to "put the U.S. back in its place."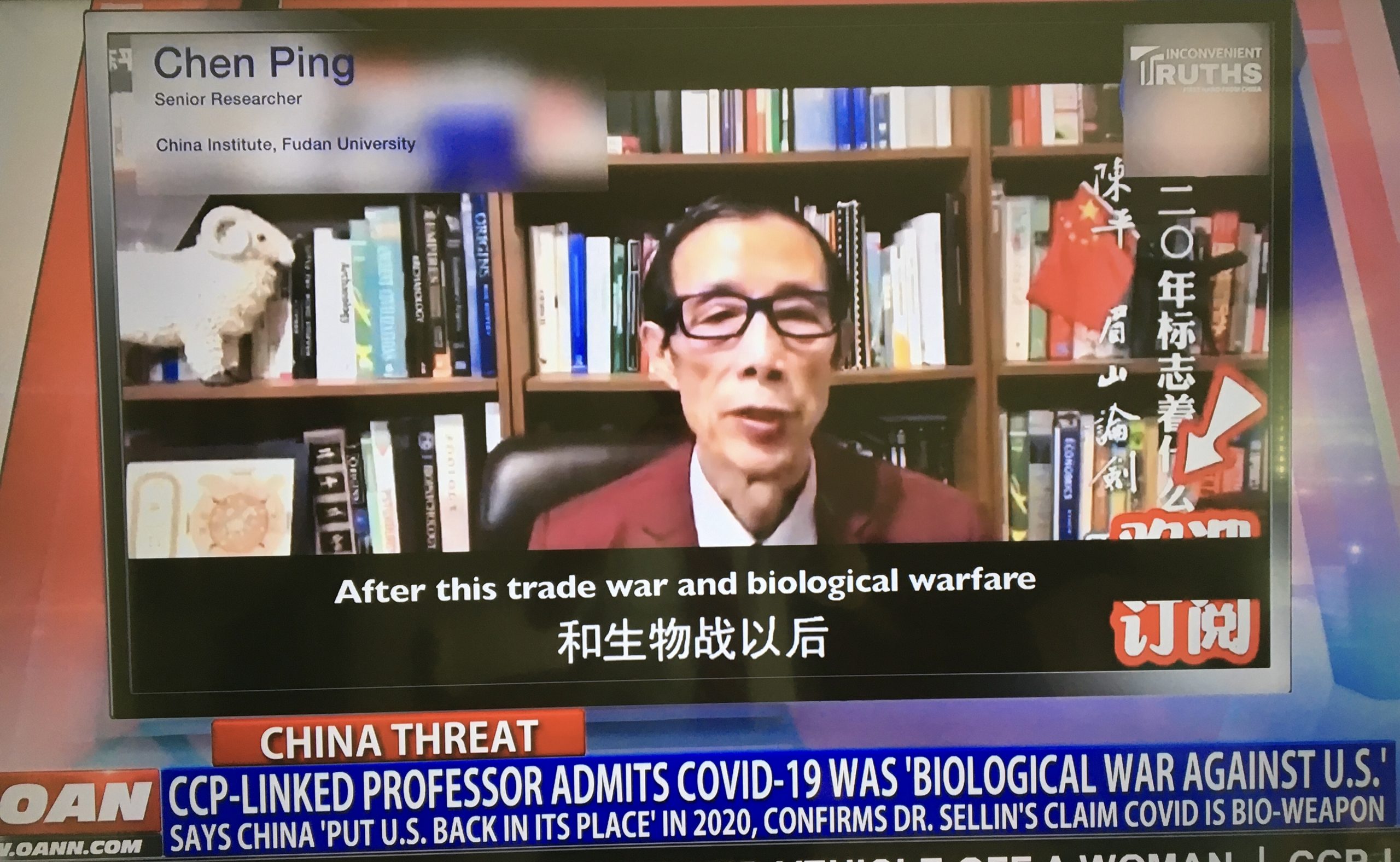 May 24, 2021 – Fauci now supports "lab-leak" theory
May 25, 2021 – Fauci now says it is from animal and not lab.

May 26, 2021 – Biden stops independent investigation about whether COVID-19 originated in a Chinese lab.
June 4, 2021 – the Daily Mail reports that the Department of Defense gave $39 million and other United States Agencies gave a total of $123 million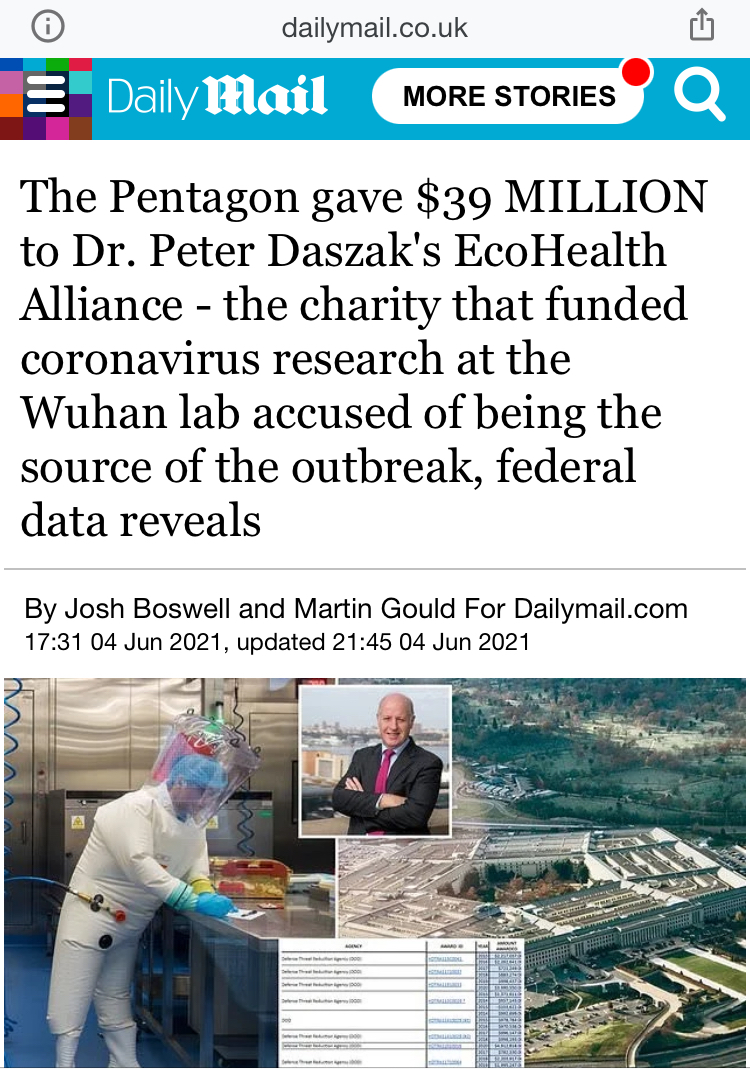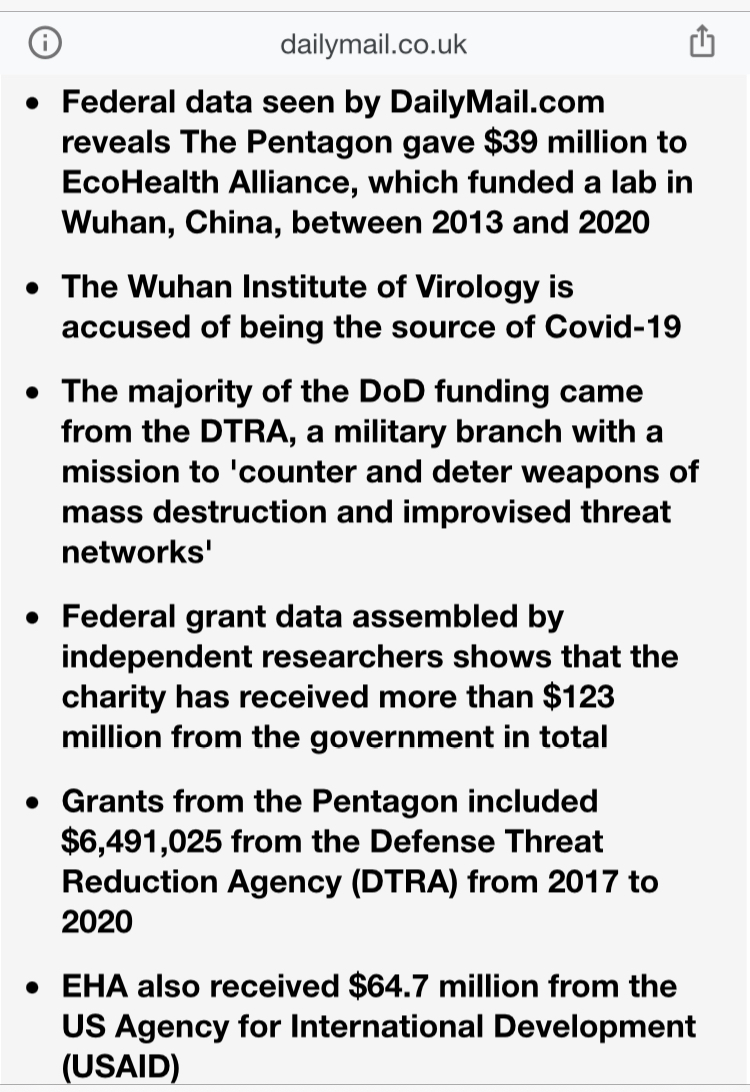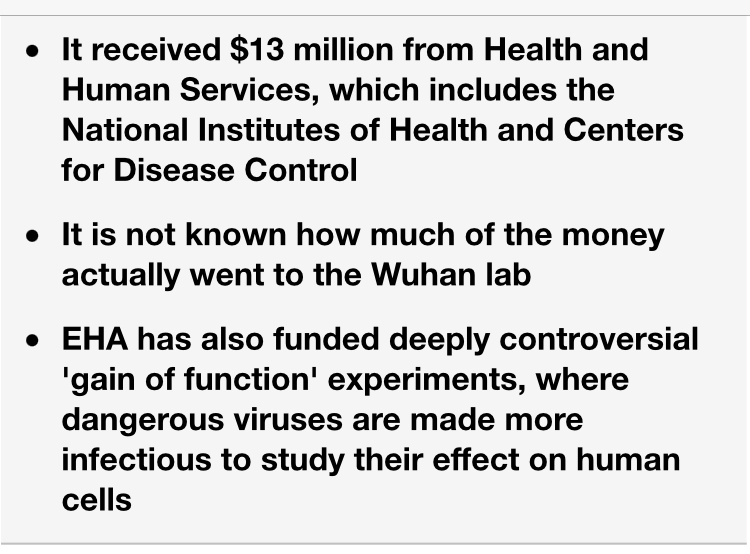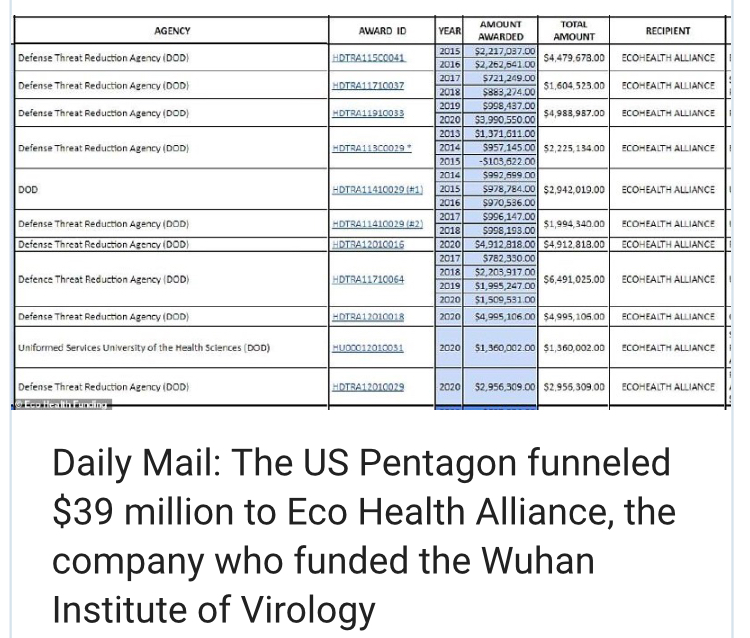 June 9, 2021 – at the Wall Street Journal Tech Health Conference, Google's David Feinberg, VP of Google Health, admitted that Google was hiding information from its users that COVID had escaped from a lab in China because Google didn't want to "lead people down pathways that we would find to be not authoritative information."   Google has an Artificial Intelligence center in China.
Google funds Peter Daszak of EcoHealth Alliance and Daszak appears to be Google's authority.  This is the same author of the now infamous letter written by him and signed by 27 scientists and published February 19, 2020 by the prestigious Lancet condemning conspiracy theories suggesting that COVID-19 does not have a natural origin.

June 15, 2021 – Former FDA Commissioner Stephen Hahn MD, who gave approval for Moderna's COVID-19 vaccine, is now the chief medical officer of Flagship Pioneering, the venture capital group that launched Moderna.  As reported by STAT, Hahn says there is nothing to see here, "I can't control what people think."

June 18, 2021 – Bill Gates Foundation said that the lockdown destroyed the middle class (Elizabeth MacDonald, Fox Business News). 

June 23, 2021 – UN Commission investigating COVID fires Daszak after realizing that it was he who wrote the letter published in Lancet trying to gag the Wuhan lab leak theory since Daszak funded Wuhan with US taxpayer dollars.

June 23, 2021 – WHO now says we shouldn't vaccinate kids.

June 23, 2021 – At the request of Chinese researchers, the U.S. NIH deleted gene sequences from an important scientific database of early COVID-19 infected patients in Wuhan during January and February 2020.  The recovered deleted files contained three mutations that are not in Huanan Seafood Market viruses, making it more similar to SARS-CoV-2's. 
Recovery of deleted deep sequencing data sheds more light on the early Wuhan SARS-CoV-2 epidemic. Bloom J. BioRxiv. June 18, 2021. https://www.biorxiv.org/content/10.1101/2021.06.18.449051v1


June 24, 2021 – Warren Buffett resigns from Gates Foundation
July 20, 2021 – Bill Gates partnered with George Soros to buyout Mologic, a COVID-19 testing company.
August 25, 2021 – U.S. Intelligence Community Statement On Origins of COVID-19: "COVID-19 virus was not manmade or genetically modified."

September 7, 2021 – 900 pages of materials related to U.S.-funded coronavirus research at the Wuhan Institute of Virology were released following a FOIA lawsuit by The Intercept.
Dr. Richard Ebright, a molecular biologist at Rutgers University said this:
"The materials confirm the grants supported the construction–in Wuhan–of novel chimeric SARS-related coronaviruses that combined a spike gene from one coronavirus with genetic information from another coronavirus, and confirmed the resulting viruses could infect human cells.
Three EcoHealth/[Wuhan Institute of Virology] lab-generated viruses exhibited >10x to >10,000x higher viral load than the starting bat virus in humanized mice.
The documents make it clear that assertions by the NIH Director, Francis Collins, and the NIAID Director, Anthony Fauci, that the NIH did not support gain-of-function research or potential pandemic pathogen enhancement at WIV are untruthful."
https://theintercept.com/2021/09/06/new-details-emerge-about-coronavirus-research-at-chinese-lab/
https://twitter.com/R_H_Ebright/status/1435053509997592578
https://www.documentcloud.org/documents/21055989-understanding-risk-bat-coronavirus-emergence-grant-notice
https://www.documentcloud.org/documents/21055988-risk-zoonotic-virus-hotspots-grant-notice
October 20, 2021 – NIH Contradicts Fauci, Collins, and Tabak, Admits Funding Gain-of-Function Research at Wuhan Lab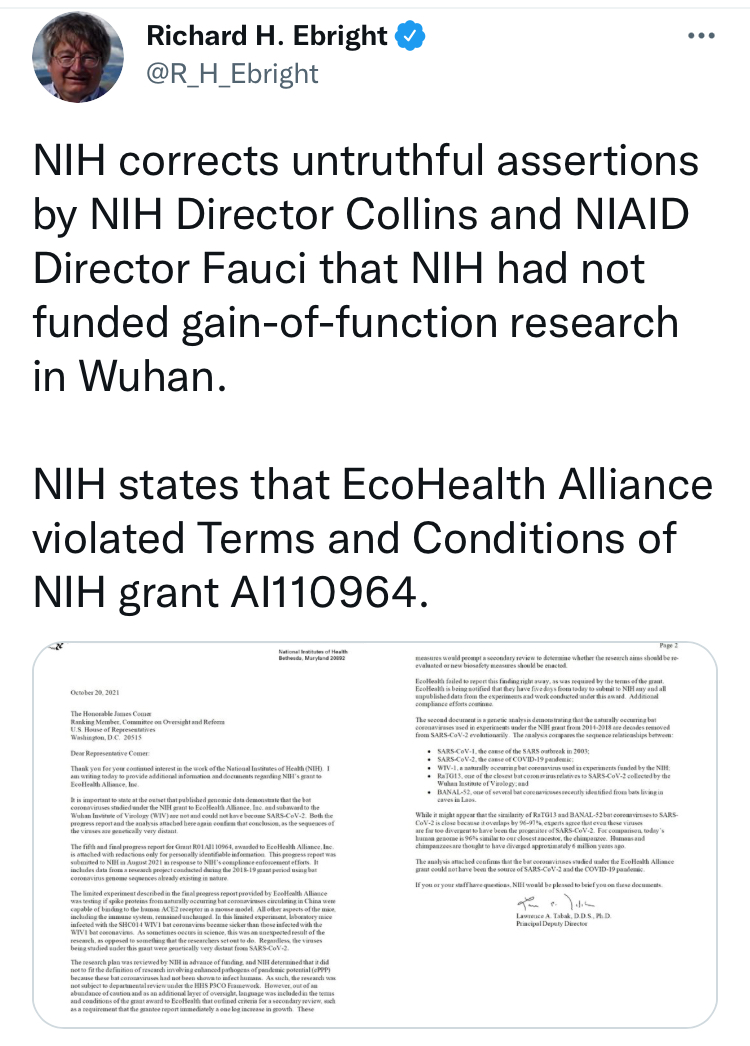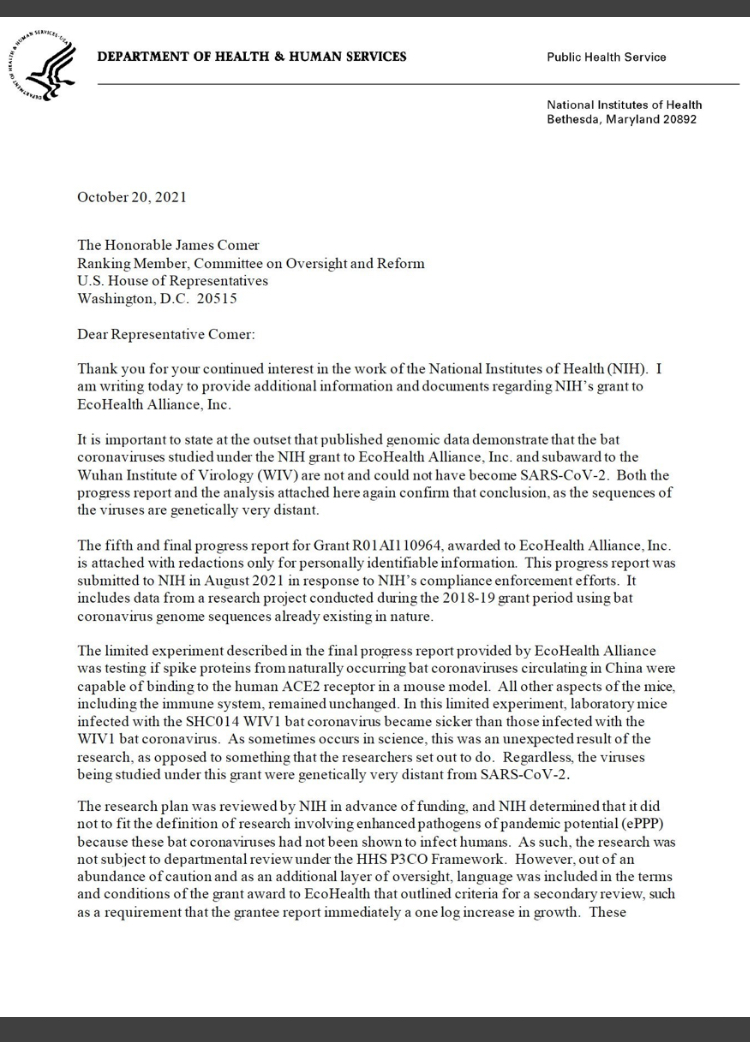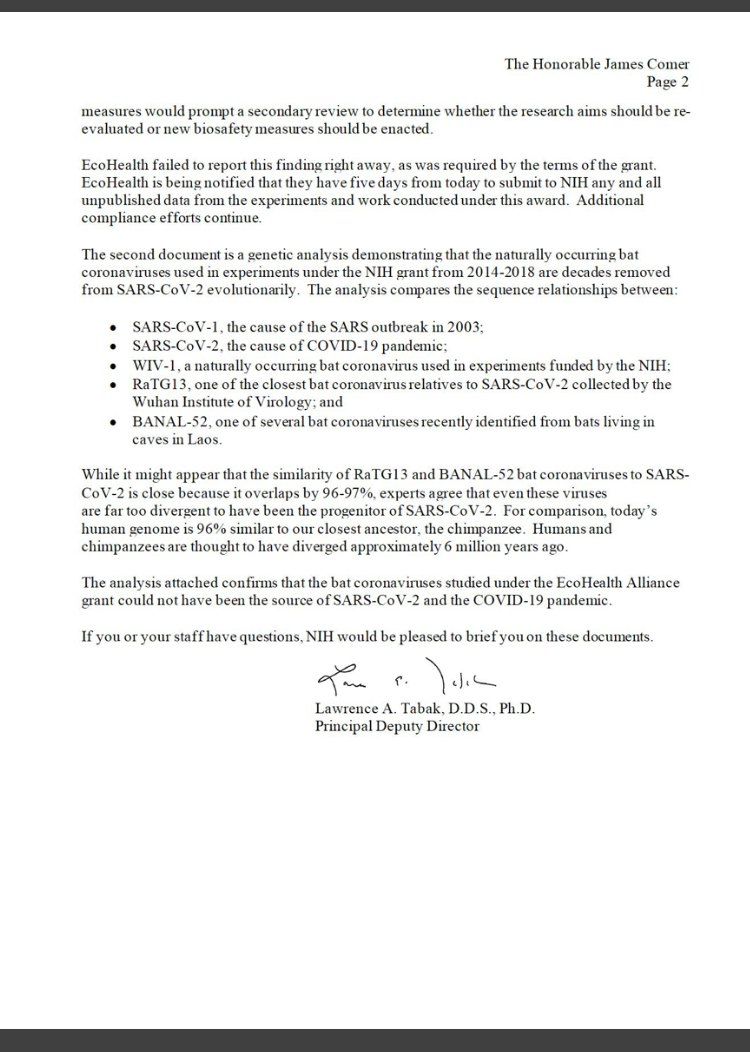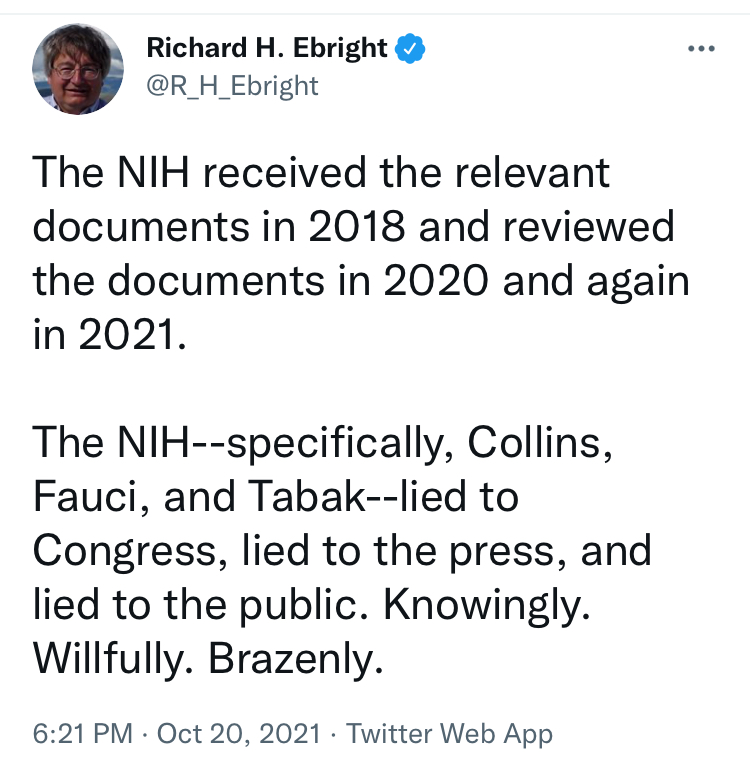 October 25, 2021 – the NIH altered a key portion of its website last week when the time it disclosed to Congress that experiments it funded in China met the definition of gain-of-function noting that the term refers to any research that modifies a biological agent in a way that confers new or enhanced activity to that agent. The explanation was wiped between Oct. 19 and Oct. 21.  The updated page now says that research involving enhanced potential pandemic pathogens (ePPPs) "is a type of so called 'gain-of-function' (GOF) research."   "The vast majority of GOF research does not involve ePPP and falls outside the scope of oversight required for research involving ePPPs." Oversight involving research on ePPPs is governed by a framework (pdf) issued by the U.S. government in late 2017, on the same day the NIH lifted its funding pause on most gain-of-function research.
TOTAL UNITED STATES FUNDING TO WUHAN INSTITUTE OF VIROLGY FROM NIAID/NIH AND OTHER U.S. GOVERNMENT ENTITIES DIRECTLY OR VIA AN INTERMEDIARY (from https://www.usaspending.gov/search using the search word(s) Wuhan Institute of Virology, Wuhan).