We do not diagnose disease or recommend a dietary supplement for the treatment of disease. You should share this information with your physician who can determine what nutrition, disease and injury treatment regimen is best for you.  You can search this site or the web for topics of interest that I may have written (use Dr Simone and topic).  
"We provide truthful information without emotion or influence from the medical establishment, pharmaceutical industry, national organizations, special interest groups or government agencies."  Charles B Simone, M.MS., M.D.
HOW TO STOP SCHOOL SHOOTINGS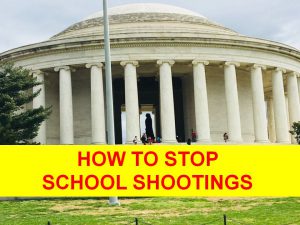 Lawrenceville, NJ (Dr Charles Simone) – We need a comprehensive SIX POINT PREVENTION PLAN to stop the slaughtering of our children and shine light on issues we rarely hear about.  We need to focus on prevention as we should also in medicine.  Taking seriously people who make threats, especially those taking psychiatric medicines, and intervening early is much more effective to stop school shootings.  
Fortifying schools with armed officers or enhanced security does not effectively reduce the likelihood of school shootings.
POINT 1.  BIG PHARMA
1 of 5 or more Americans take psychiatric medicines –

$300 BILLION A YEAR MARKET
"IN 90% OF ALL SCHOOL SHOOTINGS, THE SHOOTERS EITHER WERE ON OR HAD TAKEN PSYCHOTROPIC DRUGS" 

THAT CAN INDUCE VIOLENCE

 
Citizens Commission on Human Rights Florida
31 PRESCRIPTION PSYCHIATRIC MEDICINES induce violent behavior accounting for 79% of violence cases (1527 of 1937) – FDA Adverse Event Reporting System.    (http://www.plosone.org/…/info%3Adoi%2F10.1371%2Fjournal.pon…)
The search words included homicide, physical assault, physical abuse, homicidal ideation, and violence-related symptom. Suicide was not included in the search – if it were, the number would be higher.  We reported this on April 24, 2015   https://www.simonesuperenergy.com/fda-approved-drugs-induce-violence/
#1 Chantix is an example of the varenicline class of drugs, the smoking cessation aid, leads the list and was 18 times greater than all the other drugs combined
#2 Prozac is an example of the fluoxetine class
#3 Paxil is an example of the paroxetine class
Next are nine more anti-depressants
Six sedative/hypnotics 
Attention deficit/hyperactivity disorder prescription drugs
Adderall or Dexedrine are examples of Amphetamine 
Ritalin, Concerta, Metadate CD are examples of Methylphenidate 
Fluvox is an example of fluvoxamine for obsessive compulsive disorder.  
Ambien is an example of zolpidem  
Singulair is an example of montelukast
Seroquel is an example of quetiapine
Oxycodone
Anti-depressant drugs as a group had a higher risk of violent thoughts/actions than any other class of psychoactive drugs.
The gene CYP450 breaks down some of these drugs. However, if a person has a mutation CYP450 gene, the drugs are not broken down efficiently. Some practitioners argue that people who are on these drugs should have their CYP450 checked. Also there are some inhibitors of this gene: alcohol, cannabis, citalopram (Celexa), escitalopram (Lexapro), estrogen, fluoxetine (Prozac), fluvoxamine (Luvox), nortriptyline (Pamelor, Aventyl), paroxetine (Paxil), sertraline (Zoloft) and valerian.
THE BLOOD OF SCHOOL SHOOTERS AND ALL OTHER SHOOTERS MUST BE EVALUATED FOR THESE PSYCHOTROPIC DRUGS. 
SCREENING FOR GUN BUYERS SHOULD INCLUDE BLOOD TESTS FOR THESE PSYCHOTROPIC DRUGS.
THESE DRUGS ARE ALSO INEFFECTIVE  
Data submitted to FDA show that antidepressants are ineffective in children and teenagers (mean age 9-18 years) and adults.  Even in the most severe cases of major depression for which antidepressants are actually approved, they were not effective compared to placebo.  Antidepressants are approved for patients 18 and older.  But they are inappropriately prescribed "off-label" to children and teenagers, and for conditions that are not approved. 
Published reports claimed positive results even though "negative" trials were either left unpublished or were distorted to present "positive" results. These studies included many small randomized trials with clinically non-relevant outcomes, improper interpretation of statistical significance, manipulated study design, biased selection of study populations, and short follow-up (often less than 8 weeks).
Suicidal thinking was passed off as "emotional lability" or "worsening depression" and this information was buried in appendices that were available for less than half of the trials. The FDA never requested the rest of the appendices. 
Big Pharma has promoted a myth that antidepressants are effective by using the same playbook – get published, hire "thought leader" doctors to tell other doctors to prescribe and get those drugs into pharmacies.
Jonathan Emord, Constitutional Attorney who has defeated the FDA more times in Federal Court than any other attorney in U.S. history has this to say: 
"The financial interests of the psychiatric industry is to feed this drug industry. And the drug industry's financial interest is to come up with the agents to feed the psychiatric industry.  The psychiatric industry, then, is endlessly engaged in identifying new disorders which can then be treated with psychiatric drugs. Now psychiatric drugs are the primary drugs that are consumed in America."  
POINT 2.  FDA SHOULD REMOVE DRUGS THAT INDUCE VIOLENCE
because their mission is "to 

protect the public health by ensuring the safety, efficacy, and security of human….drugs…" 
These drugs are not safe and they are not effective. 
And until they are removed, doctors should not prescribe them.
POINT 3.  IDENTIFY POTENTIAL SHOOTERS
The Final Report and Findings of the Safe School Initiative by the U.S. Secret Service and the Department of Education (July 2004). 
SHOOTER Profile
Event is rarely impulsive, they start with an idea, then a plan, then access weapons, then attack 
90% of school shooters were on or had taken psychotropic drugs  
Many had considered or attempted suicide – antidepressant drugs predispose to suicide.
Many felt bullied
96% male
75% white
STUDENTS
In most instances, some students knew about the shooter's plans via bragging or social media.  We must encourage students to share this information immediately to save lives. 
He assumed that every school has a would-be shooter and the play wants that person to see himself and the eventual  consequences of the evil fantasy."  
After thousands of productions and movie, thousands of people wrote to the website.  111 wrote that they wanted to kill some kids and teachers, but the play changed their minds and they wanted help. Mastrosimone said "the play purged them of those awful feelings and thus prevented the school shootings – not because of school administrators or law enforcement – but because of a play." 
POINT 4.  SAFEGUARD THE SCHOOLS

 
PREVENT SHOOTER FROM ENTERING CLASSROOM USING A BRACKET made of a STRAP TIE for $2.50  |____|, a BRACE made of a 1 1/4 " PVC PIPE or 2″ X 4″ for $1.00, and a Door Stopper to be wedged under the bracket costing $0.50.  The shooter will attempt to get in, encounter resistance from this bracket and brace in place, and move on.  This bracket and brace should only be used during an emergency when there is an active shooter/intruder and not at any other time.
           
COVER THE CLASSROOM DOOR WINDOW
ZERO TOLERANCE FOR BULLYING
In a video message to the youth (

Pope to Scholas Occurrentes: don't be afraid to dialogue) 

Pope Francis on 21 June 2019 said, "Declare war on bullying, because bullying diminishes dignity (
…bullying is born [by] diminishing the other in order to feel superior, attacking in order to feel like a person);
and, gamble on dialogue, gamble on journeying together, gamble on the patience of listening to others. Then there will be true peace, and the same true peace will cause you to discover your own dignity."  In conclusion Pope Francis encouraged the youth to go forward and not to be afraid to dialogue. "It is worth it" he said.  
METAL DETECTORS
ARMED, PHYSICALLY FIT, ALERT GUARD and marked vehicle outside the main door.  This person's mission is to save lives.  
POINT 5.  SOCIETY – WE MUST VALUE HUMAN LIFE
CHILDREN today are exposed earlier to more pornography, violence, emotional and verbal abuse. 

WOMEN have been shown more disrespect, violence, emotional and verbal abuse.

PEOPLE ARE MORE DESENSITIZED TO THE VALUE OF HUMAN LIFE through the lyrics of music, television shows, movies, and violent video games that reward players with points to brutally slaughter and massacre.  In one video game, the player can morph the heads of his friends and enemies onto action figures that can then be killed.
POINT 6.  SETTLEMENT FUND MUST BE CREATED AND FUNDED BY BIG PHARMA AND FDA GOVERNMENT TO PAY VICTIM'S FAMILIES AND FOR SAFEGUARDING THE SCHOOLS.
FDA SHOULD REMOVE DRUGS THAT INDUCE VIOLENCE AND ARE NOT EFFECTIVE because their mission is "to protect the public health by ensuring the safety, efficacy, and security of human….drugs…" 
These drugs are not safe and they are not effective. 
And until they are removed, doctors should not prescribe them.
© 2018 Charles B. Simone, M.MS., M.D. ⋅ 609-896-2646 ⋅ 123 Franklin Corner Road ⋅ Lawrenceville, NJ 08648