We do not diagnose disease or recommend a treatment protocol or dietary supplement for the treatment of disease. You should share this information with your physician who can determine what nutrition and disease treatment regimen is best for you. Ask your physician any questions you have concerning your medical condition.
You can search this site or the web for topics of interest that I may have written (use Dr Simone and topic).
"We provide truthful information without emotion or influence from the medical establishment, pharmaceutical industry, national organizations, special interest groups or government agencies." Charles B Simone, M.MS., M.D.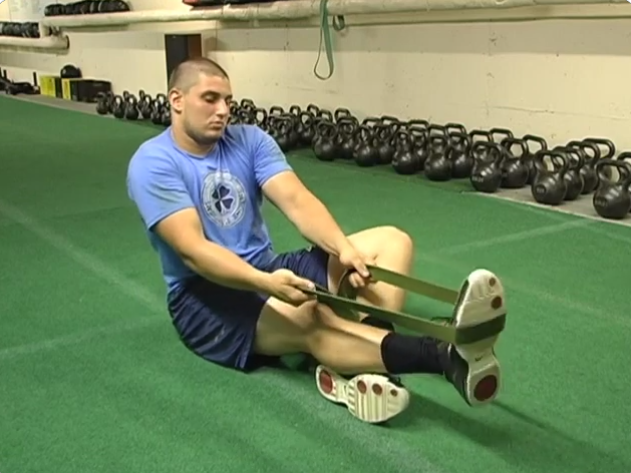 WARRIOR TRAINING AND NUTRITIONAL HYDRATION
The chance of success in military operations, competitions, or emergency situations is greater if you are physically and mentally fit. Your Nutritional Hydration™ status before, during and after military missions or competitions dramatically influences your physiology and therefore influences the outcome – good or bad. The smart, well informed, well trained and properly nutritionally hydrated warrior is an awesome opponent and can beat a complacent leader. This warrior has the advantage and can become the leader. My book, Nutritional Hydration (http://nutritionalhydration.com/) , will help you dispel many myths and share with you "tip of the spear" scientific facts to achieve superior performance, decrease risk for disease, and extend life. Nutritional Hydration™ Medical Strategy for Military and Athlete Warriors will positively change the lives of men and women and dramatically change their futures by following Dr. Simone's easy Ten Point Plan. The choice is yours.
PART 1
PART 2
PART 3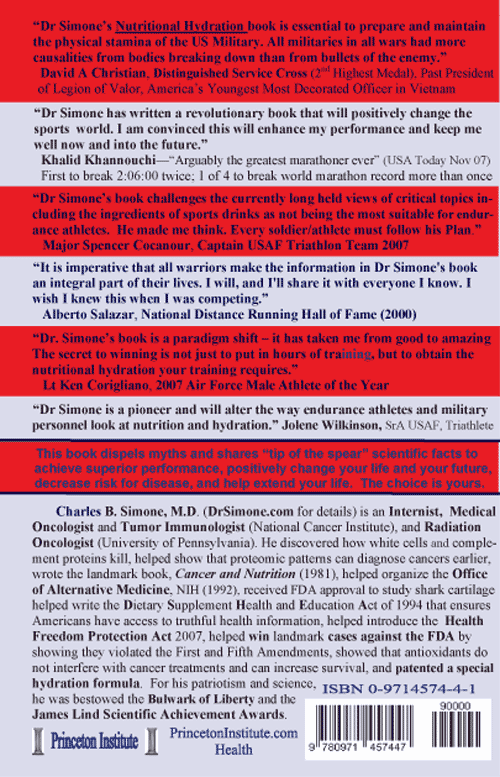 "Dr. Simone's book clearly shows what we need in terms of nutrition and hydration and why. It is based on experience and backed up by a valid bibliography. I have coached world-class athletes for 40 years and his suggestions reinforce my observations. Nutritional HydrationTM observations is for warriors, for athletes, and for anyone who wants to improve their health. A key theme is 'we have control.'"
     Richard L. Brown, PhD, Physiology. Coached 16 athletes who participated in 28 World Championship and Olympic events
"As a competitive athlete since 1975 and a coach since 1992, I have been exposed to all kinds of information supposed to help athletes. Dr Simone's book is the authoritative body of information for which we have long searched to maximize our performance without harm, and keep us healthy long after we retire from competition. Every athlete, athletic trainer, and coach needs this book. You owe it to yourself."
     Cyle Sage, Former Captain US Navy Triathlon Team 1998-2000, Two-time US Olympic Committee Developmental Coach of the Year, Triathlon; Nat'l Collegiate Club Men's Mile Record 2007
"In my twenty-five years as a coach, I know that Dr. Simone's book, Nutritional Hydration, is an important piece of the puzzle that I will add to my training. If you are an athlete, or a coach, you're cheating yourself if you don't read this book."
     John McKenna, First Strength Coach Inducted into New Jersey State Coaches Association Hall of Fame
"Dr. Simone's book is fantastic and enlightening! It keeps it simple so all coaches, athletic trainers, and athletes can understand it."
     Paul VanLieshout, Head Men's and Women's Swimming Coach The Catholic University of America, Washington, D.C.
"I have 40 years experience as a competitor, multisports trainer and coach. At age 52, Dr. Simone motivates me to re-examine my preparations. The Military, athletes from grade school to the elite, and soccer moms, should all implement his teachings to stay healthy and improve their fitness, endurance, performance, and recovery."
     Coach Tony Quinn, Retired US Air Force; Founder/President, Washington State Trail Running, Walking and Duathlon Club
"Dr Simone's book creates an opportunity for an enormous competitive edge that our collegiate athletes have embraced immediately. The positive impact on our athletes' performance has been immediate and significant. I'd like to hide this book from my opponents!"
     Stephen Fletcher, Head Coach, Men's and Women's Swimming and Diving, NCAA Division 1, Rider University, Lawrenceville NJ
© 2008 Charles B Simone, M.MS., M.D.