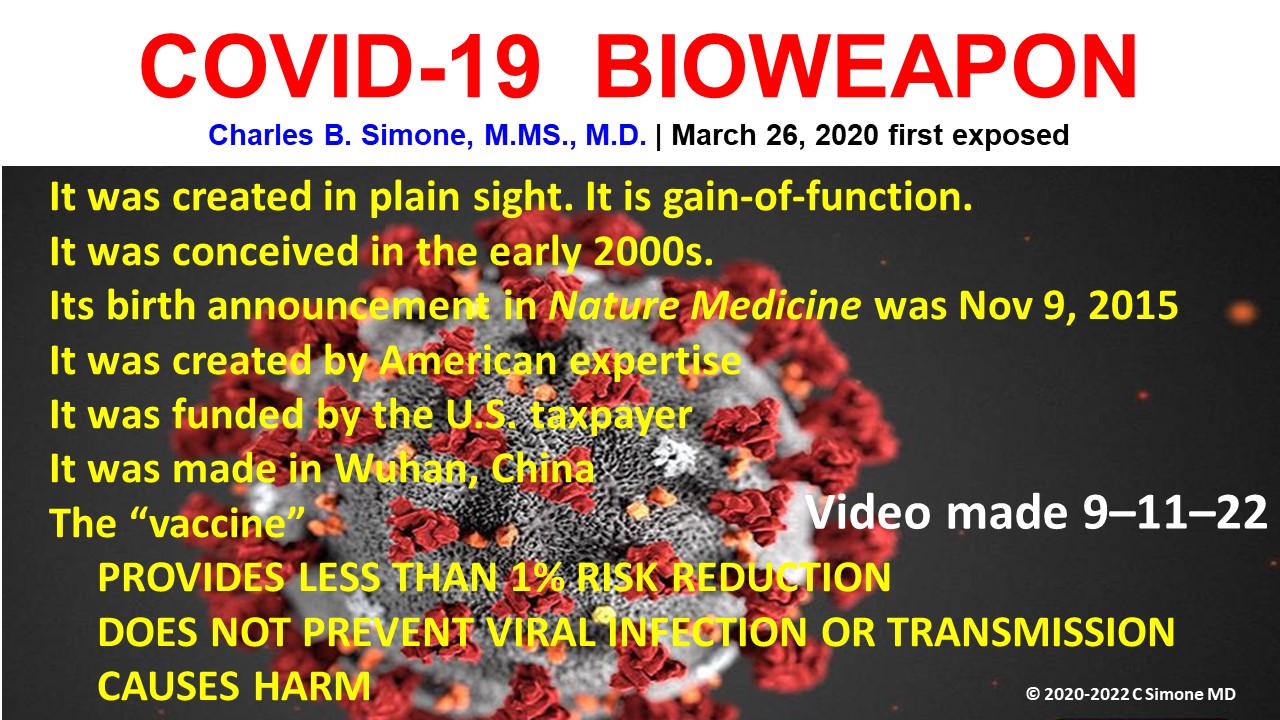 We do not diagnose disease or recommend a dietary supplement for the treatment of disease. Share this information with your physician who can determine what nutrition, disease and injury treatment regimen is best for you. "We provide truthful information without emotion or influence from the medical establishment, pharmaceutical industry, national organizations, special interest groups or government agencies."  Charles B Simone, M.MS., M.D.
WE HAD A

NATIONAL PANDEMIC RESPONSE PLAN

FOR SUCH AN EMERGENCY

that was initially tested in 2000, revised in 2005, and updated in 2017   https://www.hsdl.org/?abstract&did=438701
WHY WAS IT NOT FOLLOWED?
Rick Bright PhD

of HHS,

Janet Woodcock MD

of FDA defied their orders and ignored and intentionally sabotaged this Plan by preventing the distribution of hydroxychloroquine to the public as they were ordered, but instead forced hydroxychloroquine to be used only in hospital settings for advanced illness, thus allowing the virus to spread rapidly. They told the media that hydroxychloroquine was not safe and not effective.  They and Anthony Fauci MD, and a biased media destroyed the comprehensive National Pandemic Response Plan that would have promoted early outpatient antiviral drug treatment. The deaths of hundreds of thousands of Americans and the destruction of the U.S. economy could have been prevented. 
Rick Bright PhD of HHS, Janet Woodcock MD of FDA
(Acting FDA Commissioner 1-20-21 to 2-17-22)
manipulated the system to prevent the distribution of hydroxychloroquine to the public under an Investigational New Drug (IND) authorization as they were ordered, but instead forced hydroxychloroquine to be used only in hospital settings for advanced illness under an Emergency Use Authorization (EUA), thus allowing the SARS-CoV-2 virus to spread rapidly. They told the media that hydroxychloroquine was not safe and not effective, got its EUA revoked, and got an EUA for an unsafe and ineffective tax-payer funded Remdesivir.

This intentional sabotage of the validated National Pandemic Response Plan paved the way for the "vaccine."

The CDC had to change its definition of a vaccine on November 4, 2021 to justify its needs. 
Original definition: "A product that stimulates a person's immune system to produce immunity to a specific disease, protecting the person from that disease."
NOW, "A preparation that is used to stimulate the body's immune response against diseases."


Next came an

invalid

Emergency Use Authorization (EUA) for the "vaccine" – an EUA should only be granted if there was a "novel" or new feature to the virus that presents as a new threat that can be isolated, identified, evidenced and supported by clear data.
1) the virus was not novel because there were 73 patents on parts of this virus and scores of medical papers, and
2) there were effective treatments
Also, Obama removed SARS from the Biological Select Agents and Toxins List (BSAT) because SARS – Coronavirus – no longer posed a threat to humans.

April 24, 2020 – Trump stops funding, but Fauci gives $7.5 M to EcoHealth Alliance to send to Wuhan
THE COVER UP – Emails reveal how Fauci colluded to evade restrictions on gain-of-function experiments in January 2020

During a February 2020 teleconference with Fauci, Collins and 11 scientists, some said the virus was NOT natural, but realizing they were totally dependent upon the NIH for their funding they did an about face and wrote that the virus was of natural origin and published this in prestigious journals.
Lockdowns were medically ineffective
yielding a mere 0.2% decrease in mortality.   
Three major studies that were given as testimony
in the U.S. Senate and the Texas State Senate
showed that 85% of lives could have been saved if early inexpensive treatment with hydroxychloroquine or ivermectin were used.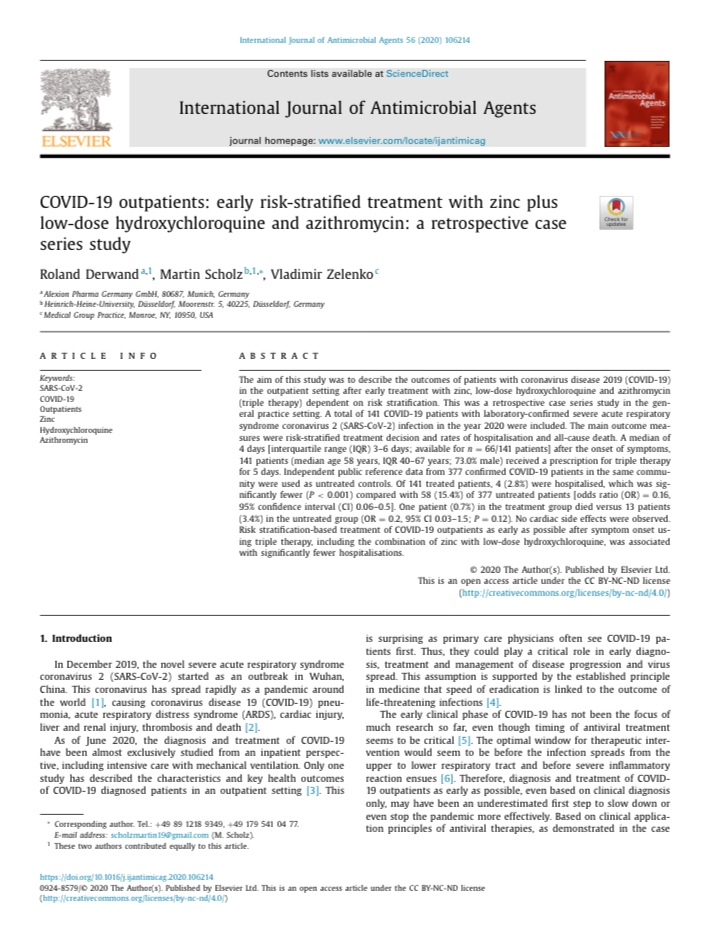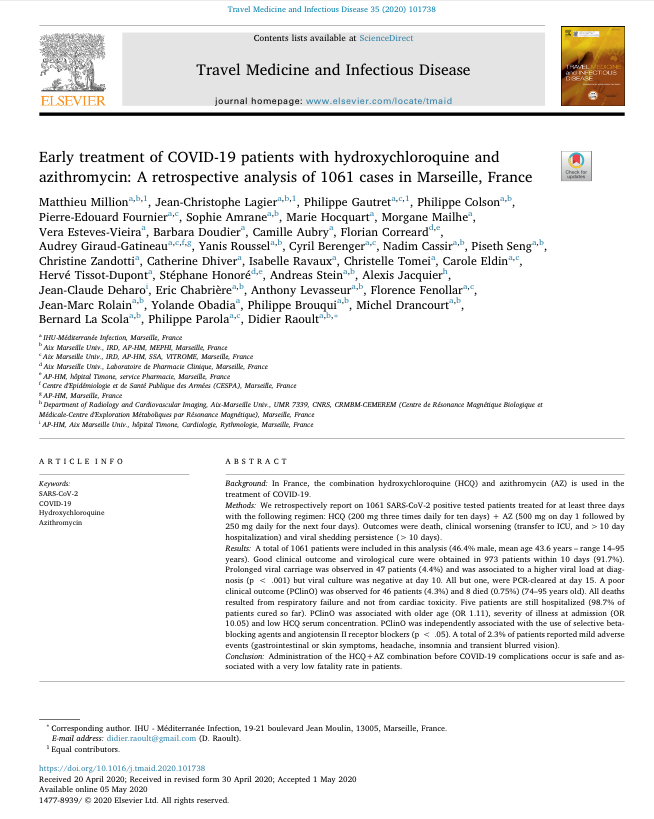 Despite this, front line doctors were silenced and threatened with losing their jobs and licenses for using these protocols to save lives.  Highly credentialed physicians were demonized.  
All dissenting information has been labeled as "misinformation" and "dangerous."
Dissenting physicians were removed as journal editors and reviewers.  Articles that had dissenting information especially about the safety and efficacy of the "vaccines" were retracted from journals. 
Remember, journals rely heavily on Big Pharma advertising for their revenue.  In 2020 Big Pharma spent $6.56 billion on advertising, $4.58 billion of that on TV advertising.  Pfizer spent $55 million on social media in 2020.
Breggin. Top medical journals sell their souls.  Lake Edge Press. Itha, NY 2021 p133 [2022 Feb 06].  Bulik BS.  The top ten ad spenders in Big Pharma for 2020.  Fierce Pharma Apr 19, 2021. https://www.fiercepharma.com/special-report/top-10-ad-spenders-big-pharma-for-2020
There are at least 350 companies that specialize in "ghostwriting."  Bif Pharma paid companies and authors to write "ghostwritten" articles that contain fake/manipulated data to support a pharmaceutical product and have these published in high impact journals like JAMA, New England Journal of Medicine, or Lancet.  Some of these misleading articles had to be retracted.  
Moffatt B, Elliott C. Ghost marketing: pharmaceutical companies and ghostwritten journal articles.  https://pubmed.ncbi.nlm.nih.gov/17259673/   Ross E. How drug companies' PR tactics skew the presentation ofmedical research.  The Guardian.  https://www.theguardian.com/science/2011/may/20/drug-companies-ghost-writing-journalism
U.S. government doctors like Dr Anthony Fauci, others at the CDC, the NIH, other U.S. Agencies, the World Health Organization, state public health officers, a U.S. President, governors, local elected officials, hospital administrators, and Bill Gates
told physicians what medical treatment protocols had to be used
– not based on medical scientific data or personal treatment experience (none of the above treated a single patient).
Physicians had to use only "approved treatments" for COVID-19 and not
the inexpensive medications like
hydroxychloroquine or ivermectin because they were not "approved." 
Pharmacies would not fill these inexpensive medications even though 20% of all prescribed drugs are prescribed as "off label." 
And U.S. government doctors, including Dr Fauci, would not recognize that a person who was infected by COVID-19 had natural immunity that was superior to the "vaccines" – this despite Dr Fauci's C-SPAN interview in 2004
(October 11 Washington Journal):
"The best vaccination is to get infected yourself, the most potent vaccination is getting infected yourself." 

HOW COULD ALL THIS HAPPEN?
August 23, 2020 – Bill Gates:

"Buy the media and you won't have to worry about the media."

 
In 1983 there were 50 companies that controlled the media.
Now only 6 companies

CONTROL 90% of the INFORMATION that 300 million Americans WATCH, READ, OR HEAR. 
So I call it

PAY TO SAY –

 they say the same sentences:
"News"casters:

'The sharing of false news has become all too common on social media, this is extremely dangerous to our democracy.'
International "Leaders":
'To be truly effective, vaccines, treatments, and diagnostics must be
affordable
and available to all.'
– you could watch in my full Report
https://rumble.com/v1bs6qd-pay-to-say-newscasters-and-international-leaders-say-the-same-sentences.html
Notice the sponsors of the international "leaders" in the lower right hand corner:

New World Order, Event 2O1, World Economic Forum, The Great Reset, Gates Foundation, GAVI Alliance, Trilateral Commission, Rockefeller Foundation.
Look at the fear evoked by these obvious bots on social media.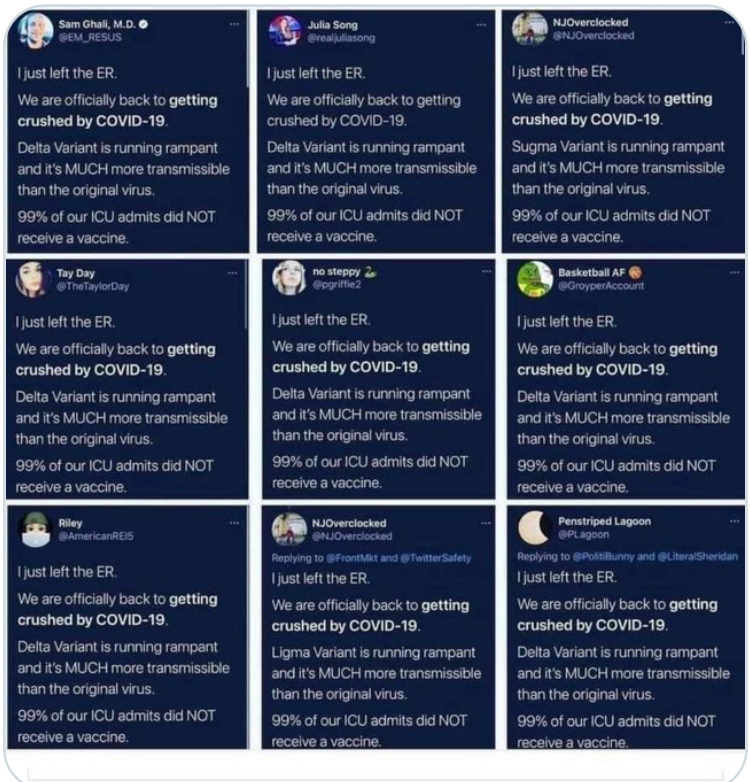 Politicians, science bureaucrats, Big Pharma, and the media initiate a single narrative.   I

f enough people believe that the genetic vaccines are safe and effective, others will accept it as true.  
This mass psychosis is promoted through:
fear, helplessness, suffering, death,
prolonged isolation like lockdowns,
a daily scorecard on the television screen of COVID cases and COVID deaths,
and a single solution offered by a single authority – ie, the vaccine


The group becomes unable to consider the real truth as it evolves. 
Leaders of the movement are revered, unable to do no wrong. Dissenters are attacked and become the common enemy.   

LET'S FIRST LOOK AT WHAT HAPPENED WITH THE

H1N1 SWINE FLU PANDEMIC SCARE OF OCTOBER 1976. 
1979 –

November 4,

Mike Wallace of 

60 Minutes exposed the lies of the CDC, FDA

, and Big Pharma. 
Only one person died then in 1976 not of the flu, but his death was used to promote a massive vaccination campaign.  46 million Americans were vaccinated, and thousands filed claims of harm or death of their loved ones from the massive vaccine campaign. 
2009 – 30 years later this same 60 Minutes program was released again because of another swine flu scare. 

The World Health Organization and the CDC said there were 284,000 deaths 

world-wide but analysis verified only 1,000 cases. This coincided precisely with the Lehman

Brothers

bankruptcy, which was the largest in US history and played a major role in the financial crisis of 2007–2008 when global markets plummeted. 

Was the swine flu panic used to distract us from this? 
Big Pharma made $18 billion on worldwide vaccinations.

On January 26, 2010 Dr. Wolfgang Wodarg, a medical expert in epidemiology and former Chair of the Sub-committee on Health of the European Parliamentary Assembly, made a statement about the handling of the H1N1 Swine Flu Pandemic to the Social, Health and Family Affairs Committee of the Council of Europe.  He questioned how the world was thrown into panic by the World Health Organization that called the flu outbreak a 'pandemic' – when there were only "a mere 1000 cases." These questions were in the light of an estimated revenue of $18 billion made by Big Pharma due to the resulting world-wide vaccination program. 
1979 first 60 Minutes broadcast on November 4 on the 1976 swine flu scare.
2009 – 30 years later, a second broadcast of this program due to another swine flu scare.
The events from 2015 to 2020 led to a massive campaign to vaccinate everyone even though it was well known that those who had a natural infection were more protected and longer protected than those who got the shots.  Trying to get young children vaccinated even though they were at almost no risk of dying from it at all.  Barring the unvaccinated from working or entering many places.  Shaming the unvaccinated.  Blaming the unvaccinated for the pandemic. Video is from October 18, 2021.
https://rumble.com/v1dg9jt-this-is-a-pandemic-of-the-unvaccinated.html
May 20, 2020 – U.S. Bioethics Chief, Christine Grady RN, PhD, Fauci's wife, published a paper telling

CORPORATES THEY CAN ETHICALLY

'PRESSURE EMPLOYEES'

and

'EMBARRASS VACCINE RESISTORS'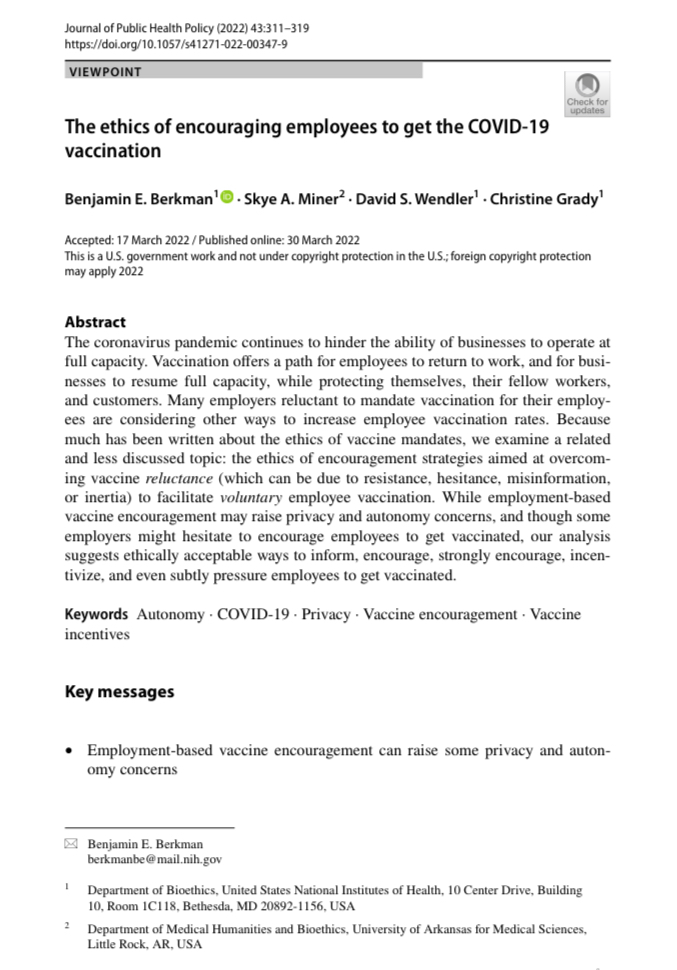 "Leave our children alone"

–  former President Trump at a rally January 15, 2022
https://rumble.com/v1dgb0v-leave-our-children-alone-said-by-president-trump-at-rally-jan-15-2022.html
https://rumble.com/v1dghs7-fauci-says-vaccines-do-not-protect-overly-well-july-17-2022.html  Full Interview:  https://www.msn.com/en-us/video/health/dr-fauci-addresses-breakthrough-covid-infections/vi-AAZvbCD?cvid=66f91a31771042a39a48a388746b7e2e
April 6, 2022 – Peter Marks, MD, PhD, Director of FDA Vaccine Division,

ADMITS BOOSTERS INEFFECTIVE AT PREVENTING INFECTION

but continues to support this strategy as a temporary "stopgap measure" — "until a proper solution is found."
The efficacy of the mRNA "vaccine" is more in doubt.  Gunter Kampf writes in Lancet that the vaccinated are now as likely as the unvaccinated to spread disease.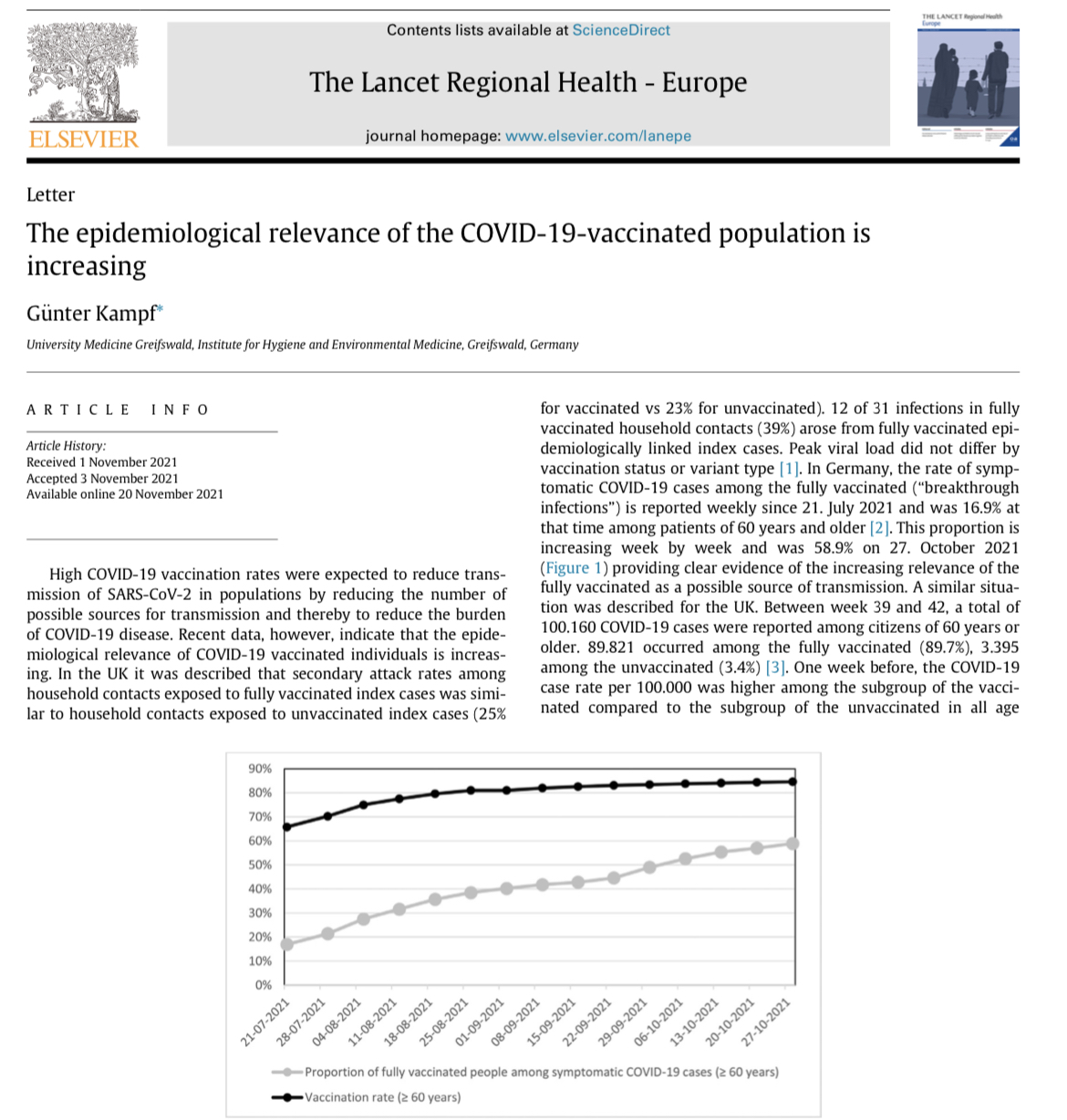 No animals studies were done.  This is only the second time in human history that animal studies were not done.  The first time, those people were prosecuted at the Nuremberg Trials.
Independent research using animals have shown that these "vaccines" cause prion diseases, inflammation, blood clotting, miscarriages, and deaths. 
The FDA removes a drug or vaccine from the market if there are more than 50 deaths attributed to them.

  
The

doctrine of informed consent

 

was lacking

. 

Instead, it was replaced with mandates. 
However, Members of Congress or those who work for Congress or the federal court system were exempt.
  Secretary of Defense Austin: "Unit personnel should use only as much force as necessary to assist medical personnel with immunizations." 
The World Health Organization states: "the [mere] presence of a child in the classroom at the vaccination session implies consent" for the shot

LIPID NANOPARTICLES

encapsulate the mRNA of the shot

and the

SPIKE PROTEINS

cause inflammation and blood clots resulting in multiple organ dysfunction. 
These lipid nanoparticles simply merge with your cell membranes and don't necessarily need the ACE2 docking site.
"Shedding" can occur

– the transmission of the spike protein from a vaccinated person to an unvaccinated person resulting in symptoms in the unvaccinated.
| | |
| --- | --- |
| Adverse Events | 1,588,772 |
| Deaths    15% in 24 hr; 19% in 48 hr; 58% symptoms in 48 hr | 29,981 |
| | |
| Permanent Disability | 55,008 |
| Serious Injuries | |
| Life Threatening | 32,772 |
| Emergency Doctor/Room | 131,621 |
| Hospitalized | 166,440 |
| Office Visit | 198,324 |
| Birth Defect | 1,125 |
Immune compromised people die 38% more if vaccinated than if not vaccinated

 
The vaccinated are more likely to be infected than the unvaccinated within five months but

the vaccine destroys any protection a person has from natural immunity.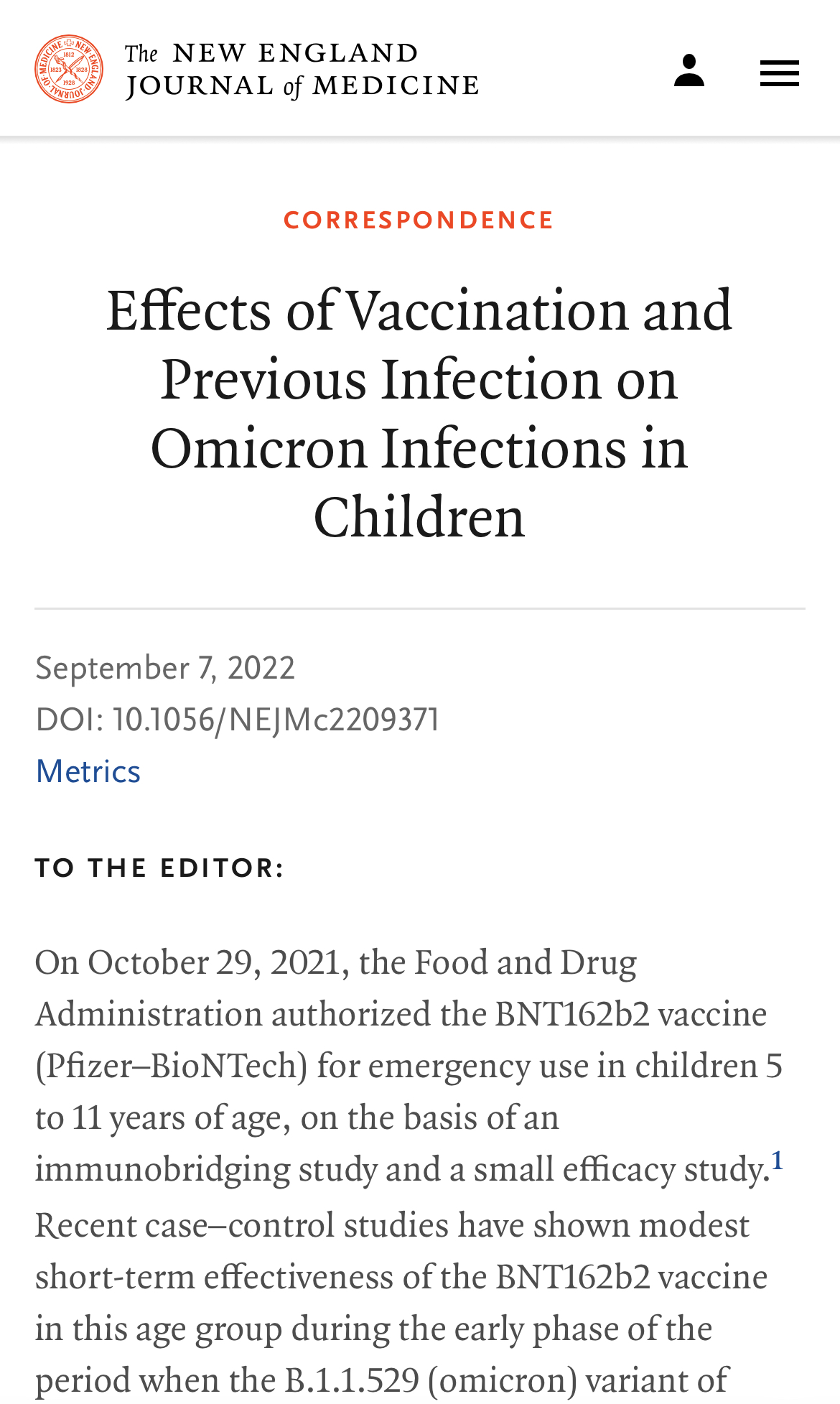 https://www.nejm.org/doi/full/10.1056/NEJMc2209371
January 24, 2022 – 

At Senator

Ron Johnson's hearing

Attorney Thomas Renz testified that t

he data from

U.S. Military's Defense Medical Epidemiology Database DMED showed the

vaccines cause an increase of:
2100% Hypertension,   

468% Pulmonary Embolism,   

300% Tachycardia,   

269% Myocardial Infarction,   
1048% Neurological Disorders (82k to 863k),   

450% Migraines,   

290% Bell's Palsy,
300% Cancer,   487% Breast Cancer,   369% Testicular Cancer,  
300% Miscarriages,   

470% Female Infertility,   437% Ovarian Dysfunction, 

155% Birth Defects

.
ANOTHER COVER UP – Attorney Leigh Dundas testified that Department of Defense changed data in DMED.
The search of "acute myocarditis" was 1,239 cases in Aug 2021, but the same search in Jan 2022 had only 307.
Pfizer VACCINE CONVERTS TO DNA in liver cells 6 hours after injection – Lund University. The CDC said this conversion would never happen.
August 18, 2022 – CDC admits "dramatic mistakes" in Covid-19 responses
September 12, 2022 – From CDC data, physician-scientists from Harvard, Hopkins, Oxford, Wash U, University of California write: 
"University Covid-19 vaccine mandates are likely to cause net harms to young healthy adults.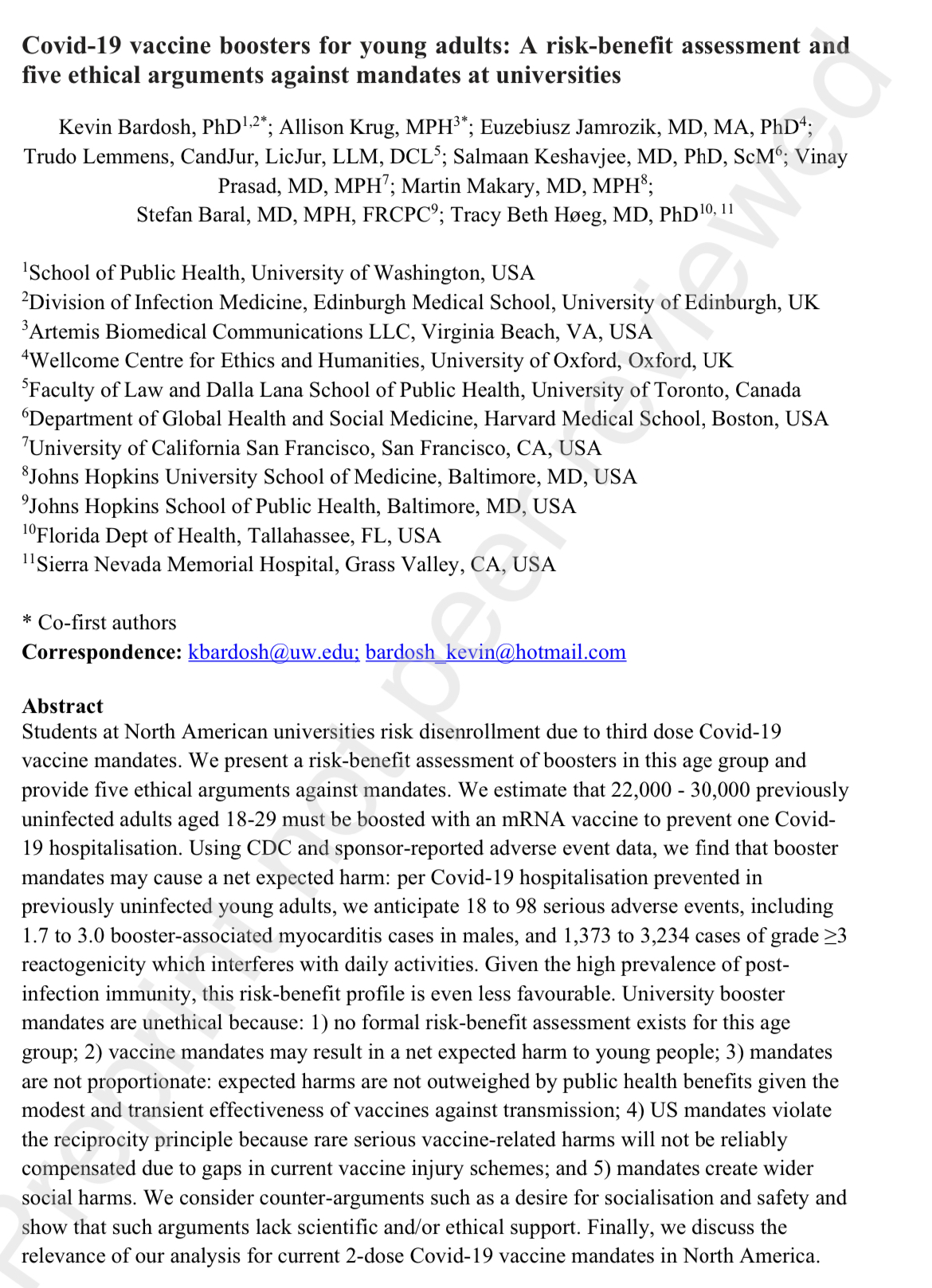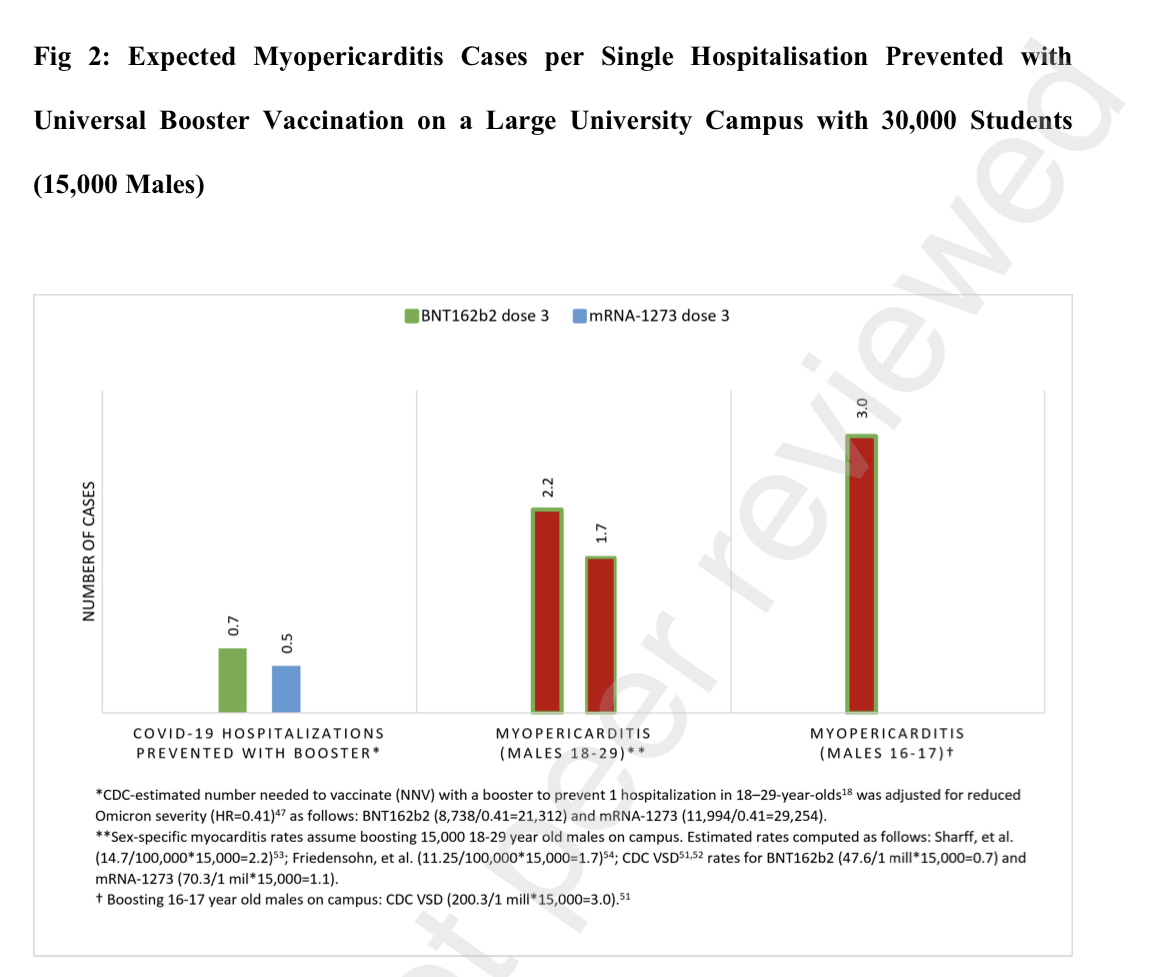 per Covid-19 hospitalisation prevented in previously uninfected young adults, we anticipate 18 and 98 serious adverse events, including 1.7 to 3.0 booster-associated myocarditis cases in males, and 1373 to 3234 disruptions of daily activities—not outweighed by benefit."
The Covid shot is up to 98 times worse than just letting them be exposed to the virus since the virus poses little or no threat to them.
"University booster mandates are unethical because:
1) no formal risk-benefit assessment exists for this age
group;  2) vaccine mandates may result in a net expected harm to young people;  3) harms are not outweighed by benefits given the modest and transient effectiveness of vaccines against transmission; [vaccines don't work]  4) US mandates violate the reciprocity principle because rare serious vaccine-related harms will not be reliably compensated due to gaps in current vaccine injury schemes; and  5) mandates create wider social harms"
"These findings have implications for mandates in other settings such as schools, corporations, healthcare systems and the military.  Policymakers should repeal booster mandates for young adults immediately"
September 30, 2022 – "Pregnancy and menstrual abnormalities (fetal abnormalities and fetal cardiac arrests) are more frequent after COVID-19 vaccines compared to influenza vaccines. 
In 2020, mostly older people died of COVID-19 (CDC). 
But in 2021 after the vaccines were rolled out, there were substantially more excess deaths among the young. The Millennials, age 25-44, suffered rapid and record 40% to 50% excess deaths in the summer of 2021,

BUT

an 84% rise of excess deaths into the Fall of 2021 when the vaccines were mandated – representing about 61,000 Americans who died from March 2021 to February of 2022

(source CDC)

–

more than the 58,000 brave Americans who died in the 10 year Vietnam War.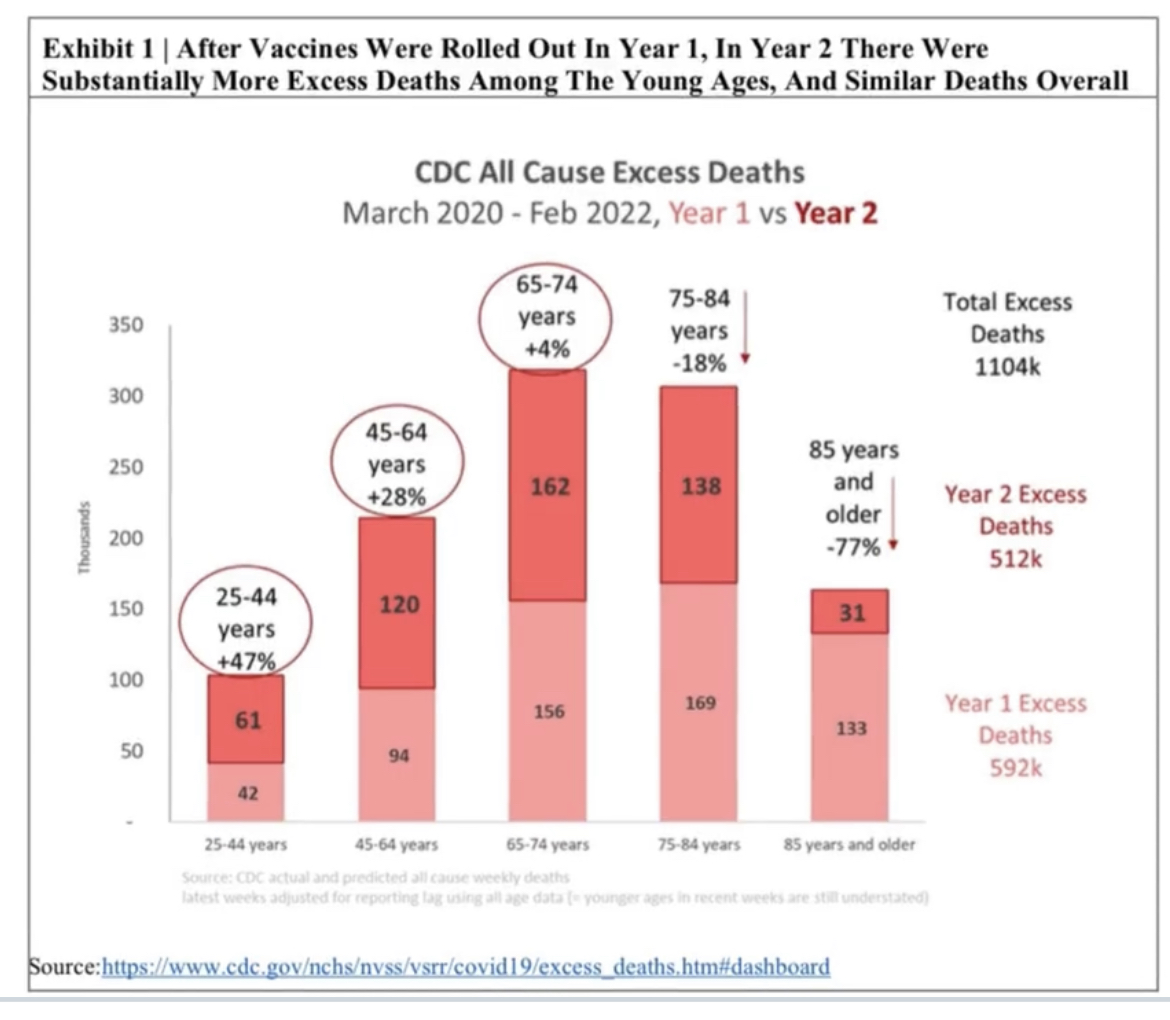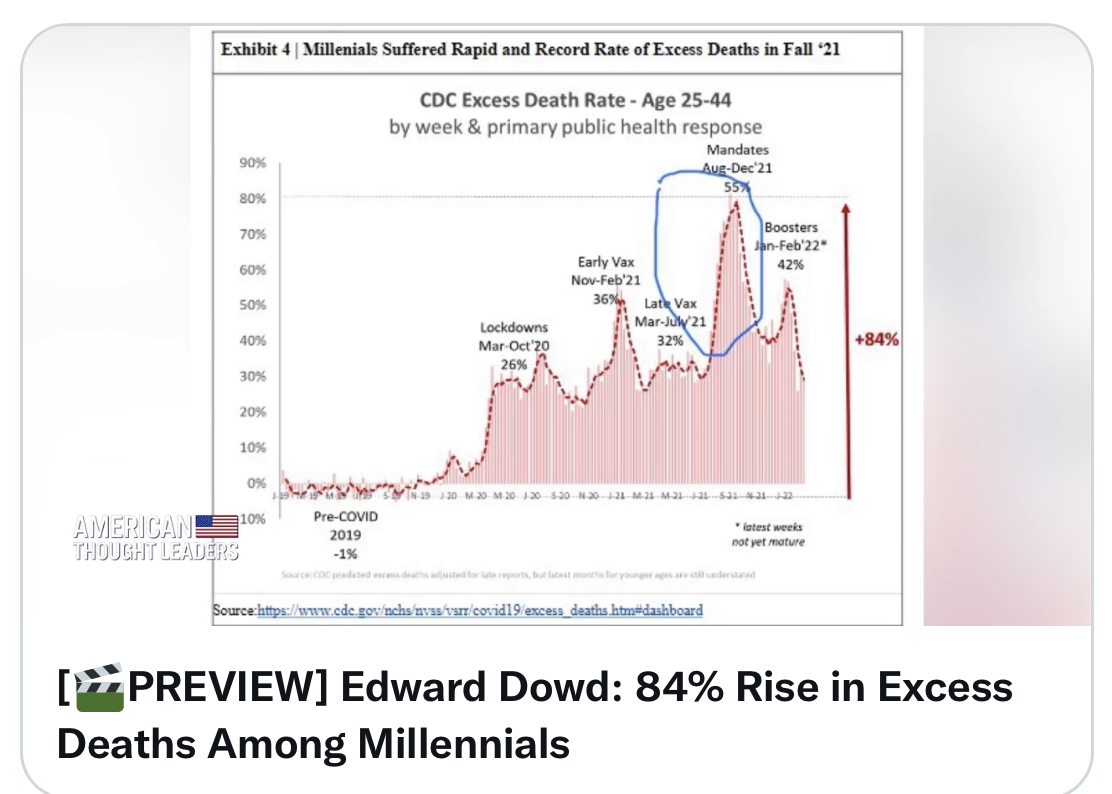 In Conclusion, the COVID-19 Bioweapon was created in plain sight. It is gain-of-function.
Its birth announcement in Nature Medicine was November 9, 2015. 
It was created by American expertise. 
It was funded by the U.S. taxpayer.  
It was made in Wuhan, China.
It caused millions of Deaths, Economic & Societal Shutdowns, Societal Control, Terror, Fear, Depression, Suicides, a premeditated suppression of early treatment in order to promote the acceptance of mass vaccination, and Mail-In Ballots 2020 election.
The "vaccine"
PROVIDES LESS THAN 1% RISK REDUCTION
DOES NOT PREVENT VIRAL INFECTION OR VIRAL TRANSMISSION
CAUSES HARM
We don't need to go to China, we don't need Chinese cooperation.  The labs have been scrubbed, and files deleted, and even genetic files obtained by the NIH from the Chinese scientists have been deleted by our own NIH. 
Everything we need to know is in plain sight.  All the collaborators and profiteers are in plain sight and they have violated the U.S. Constitution (Article 6), the Biological and Toxin Weapons Convention Treaty, the International Covenant of Civil and Political Rights, the U.S participating in the Nuremberg Trials of 1947 establishing the Nuremberg Code and how patients had to be treated, the Declaration of Helsinki for research patients, and the American Medical Association Code of Ethics on Informed Consent.
We need the

courage

to
Pursue these perpetrators and profiteers,
Severely sanction the Chinese Communist Party (CCP), 
Charge with treason those who are involved and have sworn to uphold the U.S. Constitution
Repeal the Bayh-Dole Act that allows federally funded scientists to patent and financially benefit from their findings,
Repeal the National Vaccine Injury Compensation Act that currently protects Big Pharma by eliminating all liabilities from their vaccines, and
Reform the CDC, NIH, FDA, other federal agencies, Big Tech, and Big Pharma.
I have made many more recommendations at the end of the written Report. 
© 2020-2022 C. B. Simone, M.MS., M.D.
COVID-19 BIOWEAPON
1925 – Protocol for the Prohibition of the Use in War of Asphyxiating, Poisonous, or other Gases, and of Bacteriological Methods of Warfare (the Geneva Protocol)
Dec 1980 –

Bayh-Dole Act

signed into law – allows federally funded scientists to patent and financially benefit from their findings.  
1999 – After Microsoft was charged with monopoly practices, Bill Gates dealt with the negative press by re-branding himself and started his Foundation in 1998 and then started the Global Alliance for Vaccines and Immunisation (GAVI) in 1999 – an international organization dedicated to "immunisation for all" and vaccine market shaping. 
CDC files patents to control:
1) the viral disease, the virus (Patent 7,220,852)
2) its detection and a kit to measure it (Patent 7,776,521)

April 25, 2003 filing date – filed April 12, 2004 – issued May 22, 2007

 

– US Patent 7,220,852 filed for "a newly isolated human coronavirus (SARS-CoV), the causative agent of severe acute respiratory syndrome (SARS). Also provided are the nucleic acid sequence of the SARS-CoV genome and the amino acid sequences of the SARS-CoV open reading frames, as well as methods of using these molecules to detect a SARS-CoV and detect infections therewith. Immune stimulatory compositions are also provided, along with methods of their use."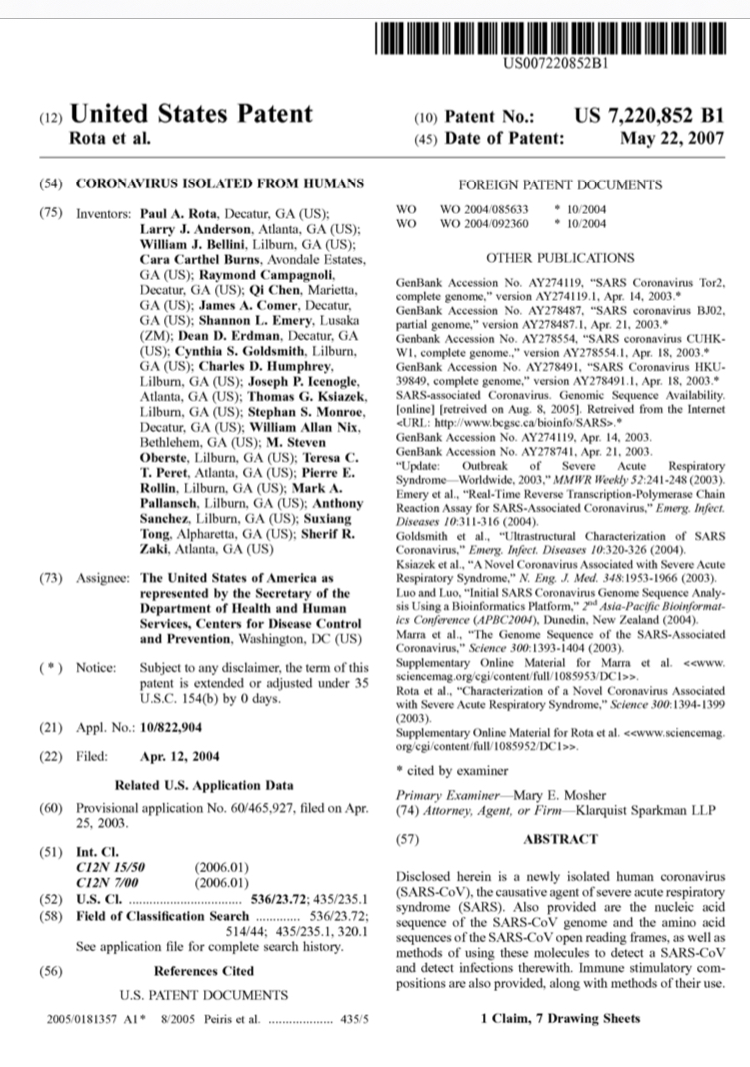 https://patentimages.storage.googleapis.com/6b/c3/21/a62eb55a0e678c/US7220852.pdf
April 25, 2003 filing date – filed May 14, 2007 – issued August 17, 2010 – 

US

Patent 7,776,521 filed
for SARS-CoV detection and a kit to measure it.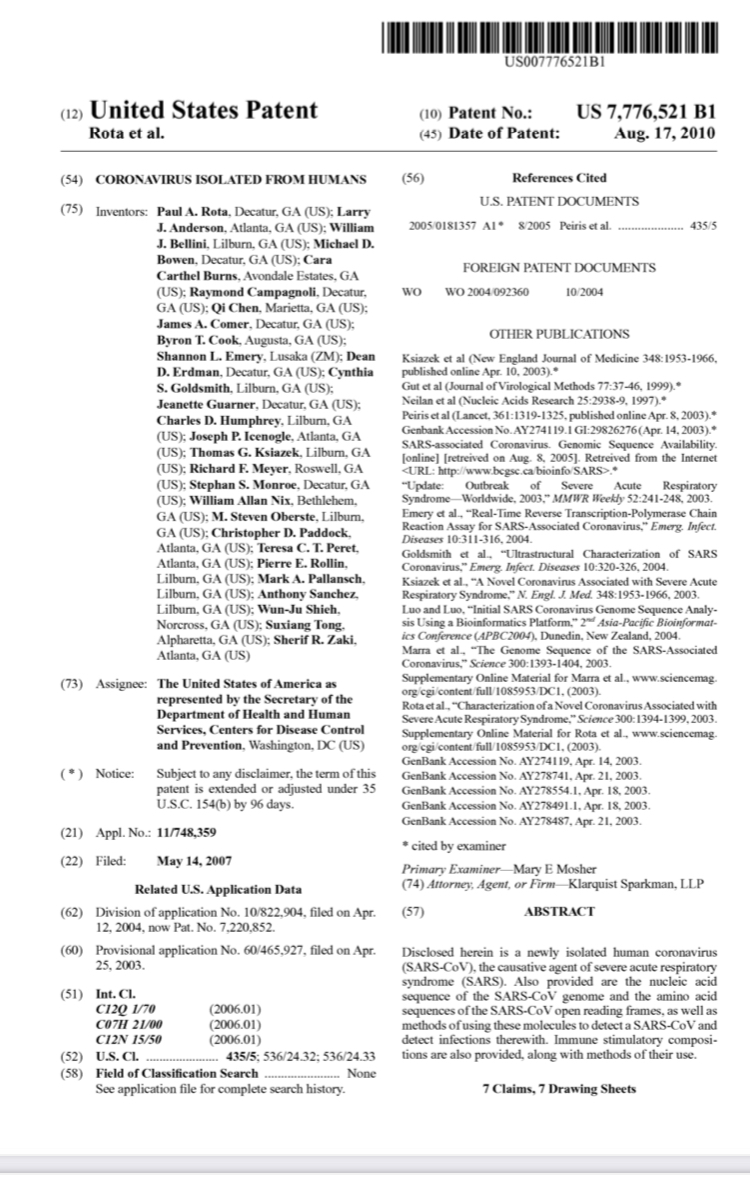 Three days after CDC filed a patent on the viral SARS-CoV genome, NIH-funded Sequoia Pharmaceuticals filed a patent for the vaccine on the virus invented three days earlier.
April 28, 2003 filing date – filed April 28, 2004 – issued December 19, 2006 — Sequoia Pharmaceuticals – founded in 2002, funded by the NIH with Wellcome Trust as a major investor – three days after the CDC filed its patent for the SARS coronavirus — Sequoia Pharmaceuticals filed a patent on an antiviral agent for the treatment and control of infectious coronavirus (Patent No. 7151163).

May 14, 2007 –
The CDC filed a petition for "non-publication" to keep their application confidential. The CDC controlled who was allowed to make inquiries.  This gave CDC total control over the virus information and monetary control, including the ability to monetize vaccines even though CDC showed in 2005 that
Chloroquine is a potent inhibitor of SARS coronavirus infection and spread
. 
2004 – The Wuhan Institute of Virology was started as a joint project between France and China.  
France provided the lab's design, biosafety training, its technology, and fifty French scientists, giving the Chinese 1 million Euros per year for five years for the French scientists. 
2015 – China stopped cooperating with the French in building and operating the lab. French intelligence officials warned the U.S. State Department and their own foreign ministry of this action. 
2017 – the French were asked to leave the lab and all cooperation stopped. The French warned the U.S. State Department that they had grave concerns that classified research was happening for the Chinese military. 
2005 – The Defense Advanced Research Projects Agency (DARPA) and MITRE Corporation (manages federally funded research and development centers supporting various U.S. government agencies in aviation, defense, healthcare, homeland security, and cybersecurity fields) hosted a conference in which a presentation focused on "Synthetic Coronaviruses Biohacking: Biological Warfare Enabling Technologies."  Dr. Baric presented the possibility of SARS-CoV as a biological warfare agent. Dr. Baric and the U.S. Department of Defense spent over $45 million in amplifying the toxicity of CoV.
August 22, 2005 – "Chloroquine is a potent inhibitor of SARS coronavirus infection and spread." 

Virol J.

 2005 Aug 22;2:69.
This paper is from the Division of Viral and Rickettsial Diseases, Centers for Disease Control and Prevention, Atlanta, Georgia 30333, USA.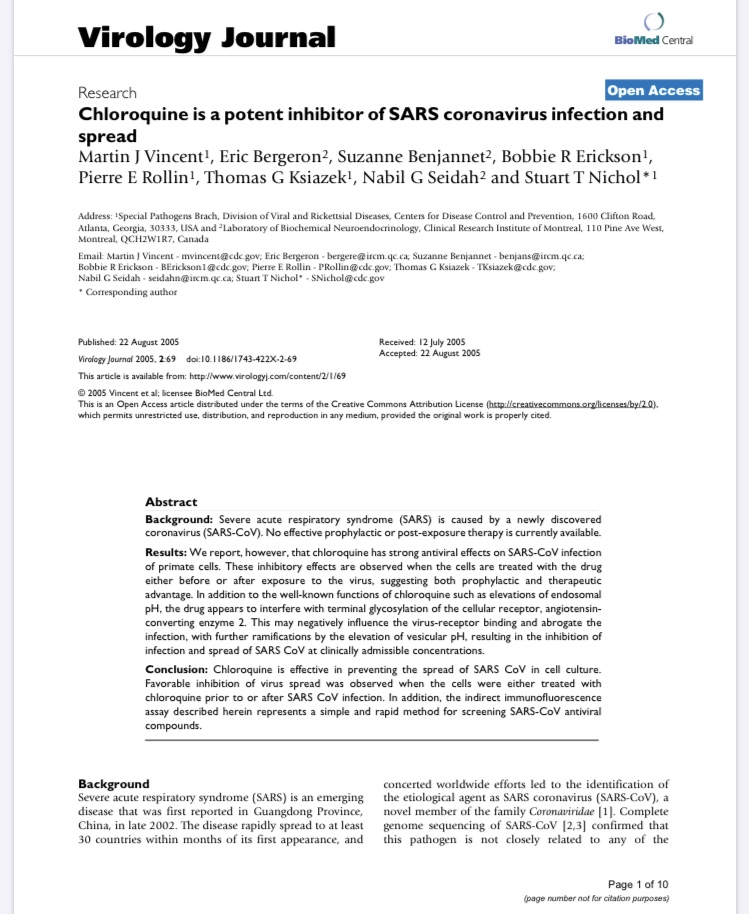 2007– "Chinese government, the People's Liberation Army and people at Xi Jinping's level write in non-classified publications that genetic warfare and biological warfare are the future of war and in some ways even go beyond nuclear war." 
Interview on March 12, 2021: David Asher, Hudson Institute, formerly U.S. Department of State where he 'spearheaded a task force looking into the origins of 

COVID-19 and the role of the Chinese government.'

  https://www.youtube.com/watch?v=Ltxwq1-UXwc
COLONEL SHI  ZHENG-LI VIROLOGIST AT WUHAN INSTITUTE OF VIROLOGY
2004 – because of the SARS outbreak in 2003, the NIH funded Shi Zheng-Li to prevent the next pandemic.
FUNDING: NIH/National Science Foundation RO1TWO5869; John E Fogarty International Center at NIH; V. Kann Rasmussen Foundation in New York
So I call it

PAY TO SAY
PAY TO SAY – "News"casters and International "Leaders  say the same sentences
https://rumble.com/v1bs6qd-pay-to-say-newscasters-and-international-leaders-say-the-same-sentences.html
Notice the sponsors of the quotes for the international "leaders" in the lower right hand corner:

New World Order, Event 2O1, World Economic Forum, The Great Reset, Gates Foundation, GAVI Alliance, Trilateral Commission, Rockefeller Foundation.
https://m.youtube.com/watch?v=ksb3KD6DfSI&t=41s&pp=2AEpkAIB
Chapter 6: Rapid Medical Countermeasure Response to Infectious Diseases: Enabling Sustainable Capabilities Through Ongoing Public- and Private-Sector Partnerships: Workshop Summary. (© 2016 US National Library of Medicine)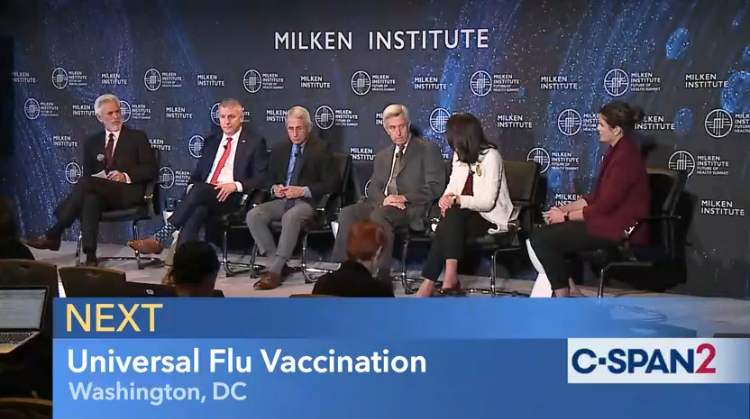 December 9 and 10, 2019 – Peter Daszak deleted tweet of Conference he attended and introduced Shi Zhengli at the Nipah Virus International Conference in Singapore. The session was co-hosted by the Coalition for Epidemic Preparedness Innovations (CEPI), Gates Foundation, and organizers were the World Health Organization and the National Institute of Allergy and Infectious Diseases. At that Conference Daszak openly discussed Gain-of-Function and coronaviruses.
January 27, 2020 – Secret emails reveal how Fauci, NIAID, NIH, EcoHealth Alliance colluded to evade restrictions on gain-of-function coronavirus experiments
Sharon Lerner & Mara Hvistendahl, NIH Officials Worked with EcoHealth Alliance to Evade Restrictions on
Coronavirus Experiments, INTERCEPT (Nov. 3, 2021).
May 13, 2021 – Daszak welcomed Fauci's announcement that there could soon be a universal COVID vaccine for all future coronaviruses based on joint research conducted by EcoHealth Alliance and the Wuhan Institute of Virology. 
May 19, 2021 – Republicans on the House Intelligence Committee say there is "significant circumstantial evidence" that the COVID-19 outbreak came from a leak at the Wuhan Institute of Virology.  "There are "clear signs" that U.S. government agencies and academic institutions "may have funded or collaborated in Gain of Function research" at the Wuhan Lab, claiming that research "was published even after the U.S. government had paused these kinds of studies. 
May 20, 2021 – CCP linked Professor Chen Ping of Fudan University admits that COVID-19 was "biological war" against the U.S. to "put the U.S. back in its place."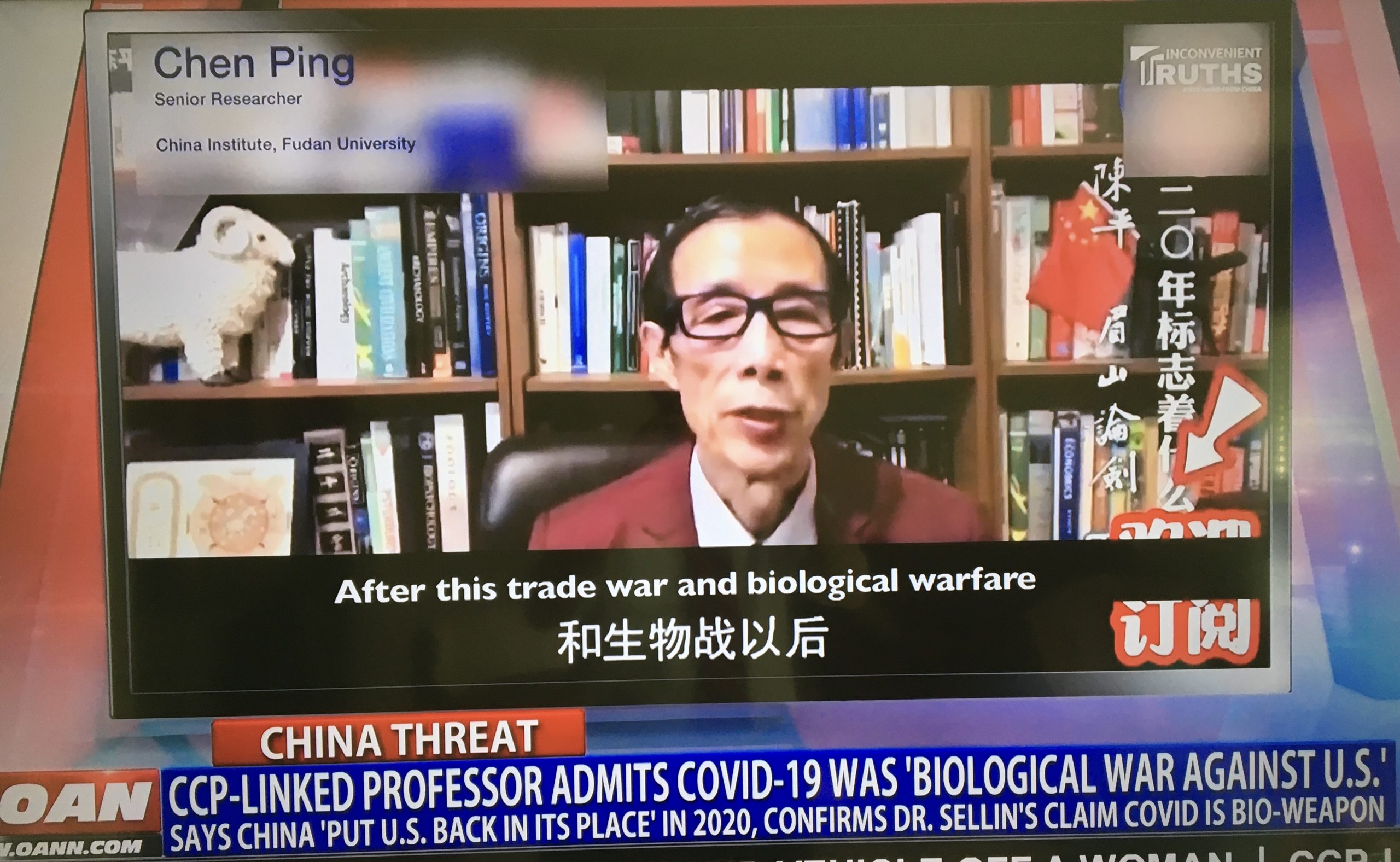 May 24, 2021 – Fauci now supports "lab-leak" theory
May 25, 2021 – Fauci now says it is from animal and not lab.

May 26, 2021 – Biden stops independent investigation about whether COVID-19 originated in a Chinese lab.
June 4, 2021 – the Daily Mail reports that the Department of Defense gave $39 million and other United States Agencies gave a total of $123 million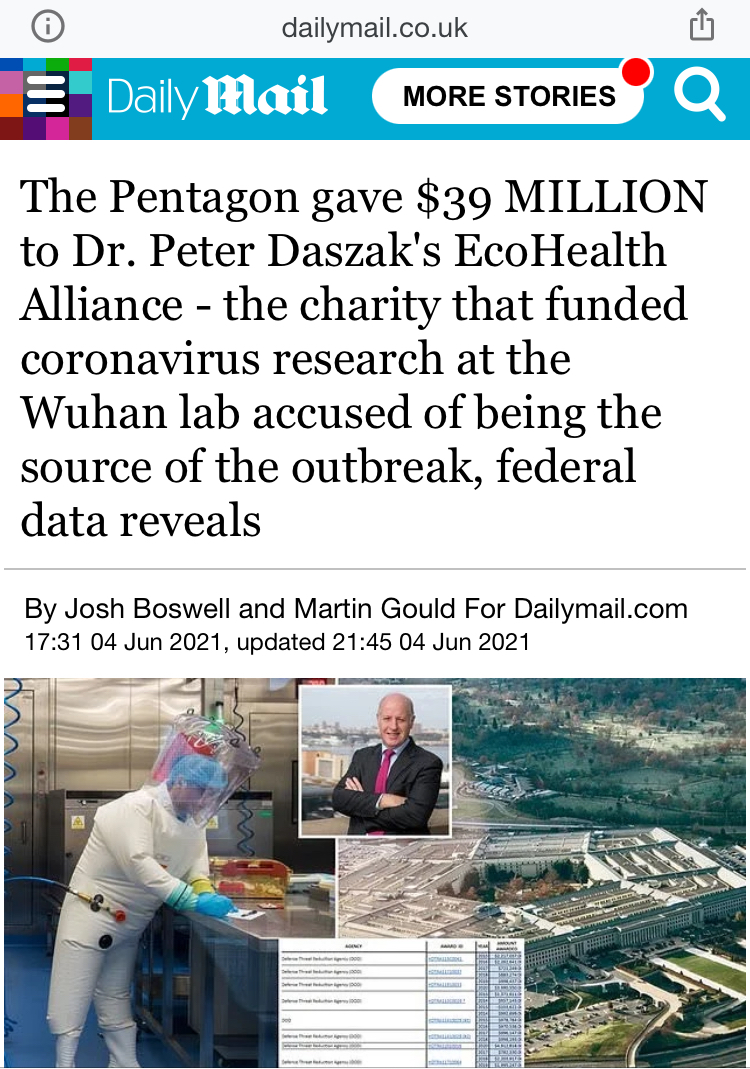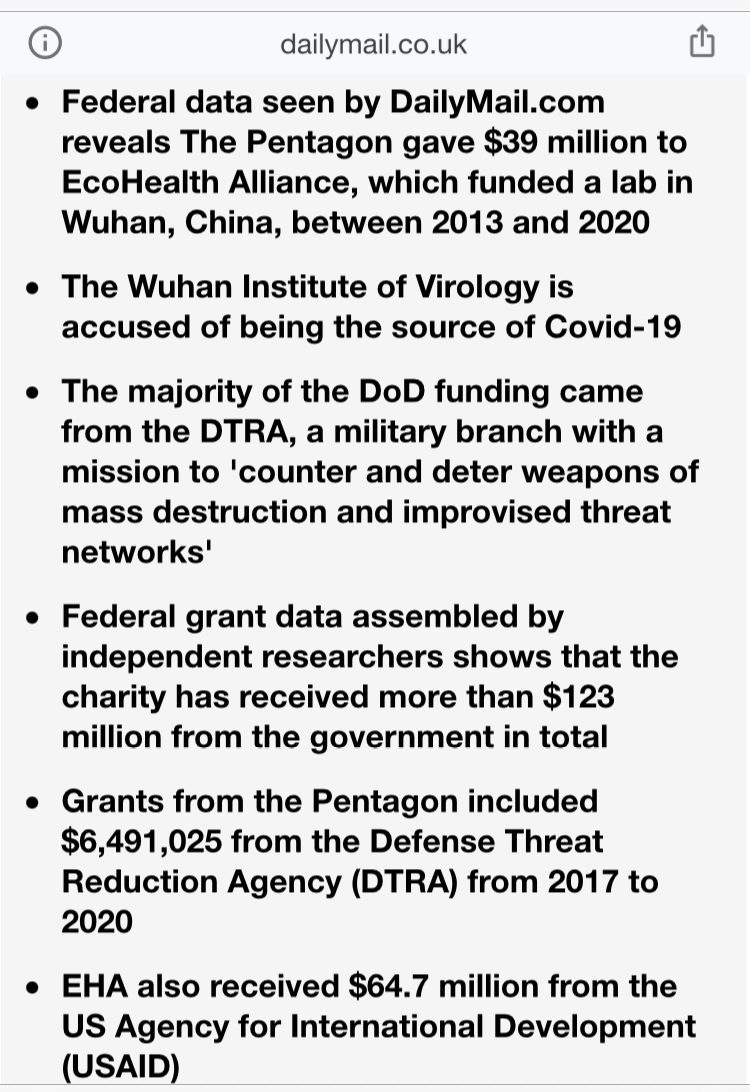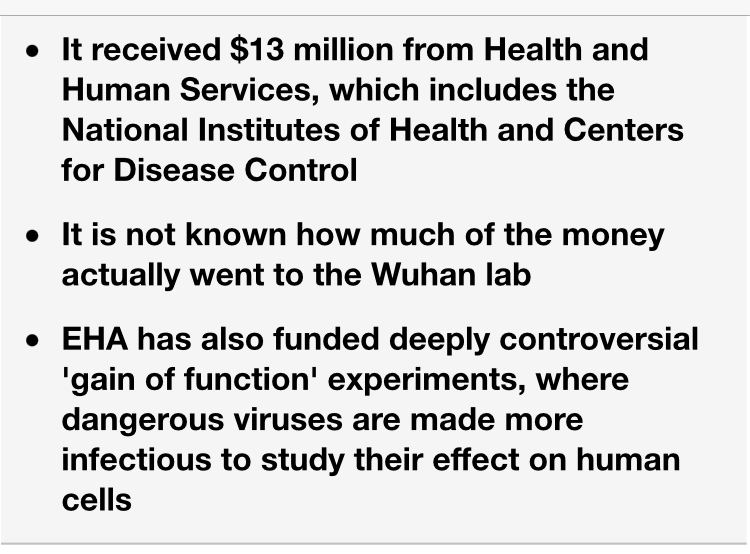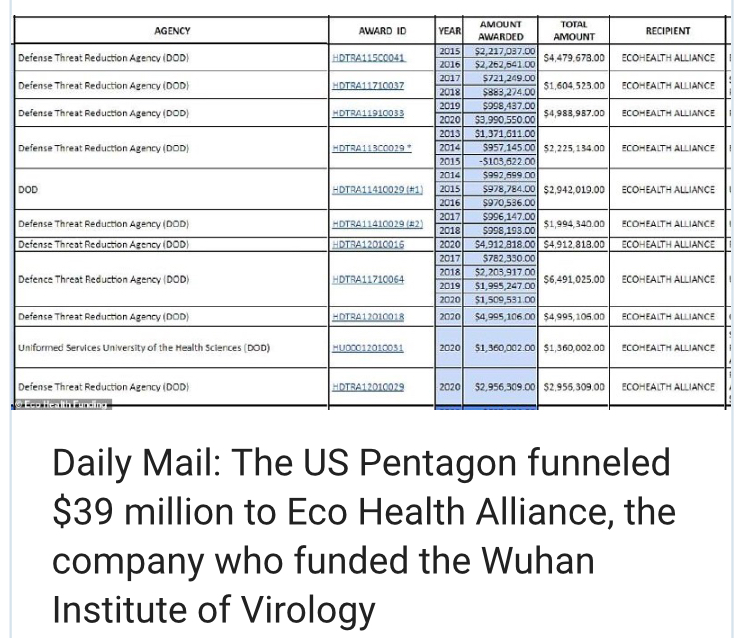 June 9, 2021 – at the Wall Street Journal Tech Health Conference, Google's David Feinberg, VP of Google Health, admitted that Google was hiding information from its users that COVID had escaped from a lab in China because Google didn't want to "lead people down pathways that we would find to be not authoritative information."   Google has an Artificial Intelligence center in China.
Google funds Peter Daszak of EcoHealth Alliance and Daszak appears to be Google's authority.  This is the same author of the now infamous letter written by him and signed by 27 scientists and published February 19, 2020 by the prestigious Lancet condemning conspiracy theories suggesting that COVID-19 does not have a natural origin.

June 15, 2021 – Former FDA Commissioner Stephen Hahn MD, who gave approval for Moderna's COVID-19 vaccine, is now the chief medical officer of Flagship Pioneering, the venture capital group that launched Moderna.  As reported by STAT, Hahn says there is nothing to see here, "I can't control what people think."

June 18, 2021 – Bill Gates Foundation said that the lockdown destroyed the middle class (Elizabeth MacDonald, Fox Business News). 

June 23, 2021 – UN Commission investigating COVID fires Daszak after realizing that it was he who wrote the letter published in Lancet trying to gag the Wuhan lab leak theory since Daszak funded Wuhan with US taxpayer dollars.

June 23, 2021 – WHO now says we shouldn't vaccinate kids.

June 23, 2021 – At the request of Chinese researchers, the U.S. NIH deleted gene sequences from an important scientific database of early COVID-19 infected patients in Wuhan during January and February 2020.  The recovered deleted files contained three mutations that are not in Huanan Seafood Market viruses, making it more similar to SARS-CoV-2's. 
Recovery of deleted deep sequencing data sheds more light on the early Wuhan SARS-CoV-2 epidemic. Bloom J. BioRxiv. June 18, 2021. https://www.biorxiv.org/content/10.1101/2021.06.18.449051v1


June 24, 2021 – Warren Buffett resigns from Gates Foundation
July 20, 2021 – Bill Gates partnered with George Soros to buyout Mologic, a COVID-19 testing company.
August 25, 2021 – U.S. Intelligence Community Statement On Origins of COVID-19: "COVID-19 virus was not manmade or genetically modified."
Another U.S. Intelligence Community element "assesses with moderate confidence that the first human infection with SARS-CoV 2 most likely was the result of a laboratory-associated incident, probably involving experimentation, animal handling, or sampling by the Wuhan Institute of Virology." 
But the Intelligence Community would need China's cooperation to make conclusions.
August 25, 2021 – Comparing SARS-CoV-2 natural immunity to vaccine-induced immunity: reinfections versus breakthrough infections. This study demonstrated that natural immunity confers longer lasting and stronger protection against infection, symptomatic disease and hospitalization caused by the Delta variant of SARS-CoV-2, compared to the BNT162b2 two-dose vaccine-induced immunity. Individuals who were both previously infected with SARS-CoV-2 and given a single dose of the vaccine gained additional protection against the Delta variant.
September 7, 2021 – 900 pages of materials related to U.S.-funded coronavirus research at the Wuhan Institute of Virology were released following a FOIA lawsuit by The Intercept.
Dr. Richard Ebright, a molecular biologist at Rutgers University said this:
"The materials confirm the grants supported the construction–in Wuhan–of novel chimeric SARS-related coronaviruses that combined a spike gene from one coronavirus with genetic information from another coronavirus, and confirmed the resulting viruses could infect human cells.
Three EcoHealth/[Wuhan Institute of Virology] lab-generated viruses exhibited >10x to >10,000x higher viral load than the starting bat virus in humanized mice.
The documents make it clear that assertions by the NIH Director, Francis Collins, and the NIAID Director, Anthony Fauci, that the NIH did not support gain-of-function research or potential pandemic pathogen enhancement at WIV are untruthful."
https://theintercept.com/2021/09/06/new-details-emerge-about-coronavirus-research-at-chinese-lab/
https://twitter.com/R_H_Ebright/status/1435053509997592578
https://www.documentcloud.org/documents/21055989-understanding-risk-bat-coronavirus-emergence-grant-notice
https://www.documentcloud.org/documents/21055988-risk-zoonotic-virus-hotspots-grant-notice
October 20, 2021 – NIH Contradicts Fauci, Collins, and Tabak, Admits Funding Gain-of-Function Research at Wuhan Lab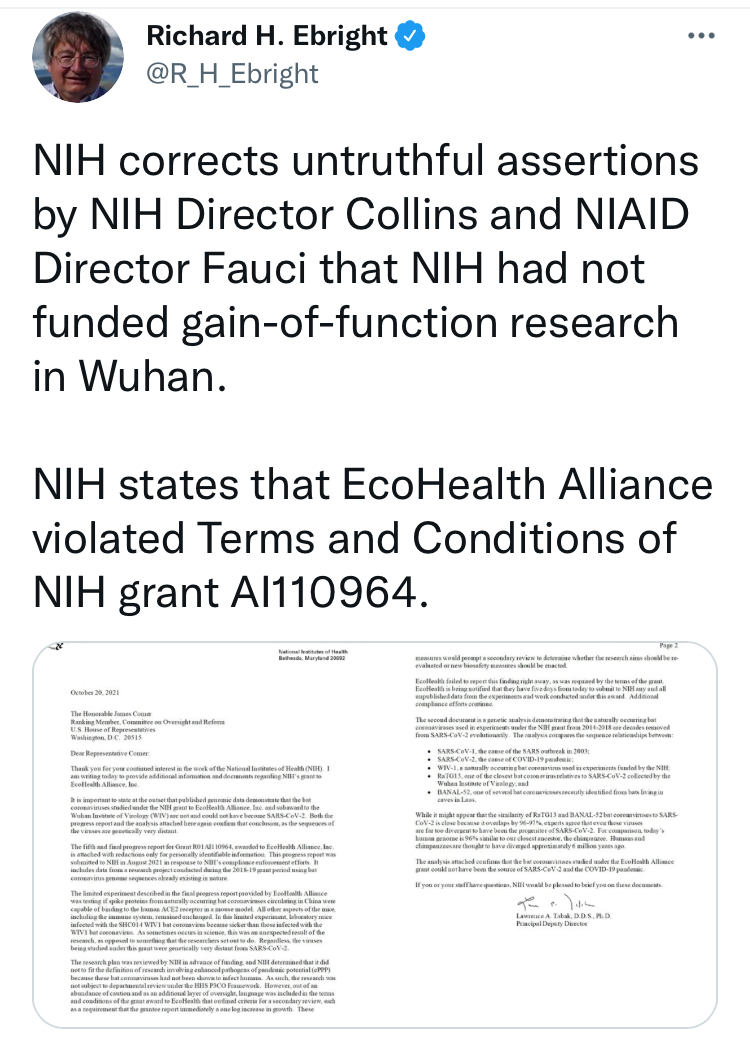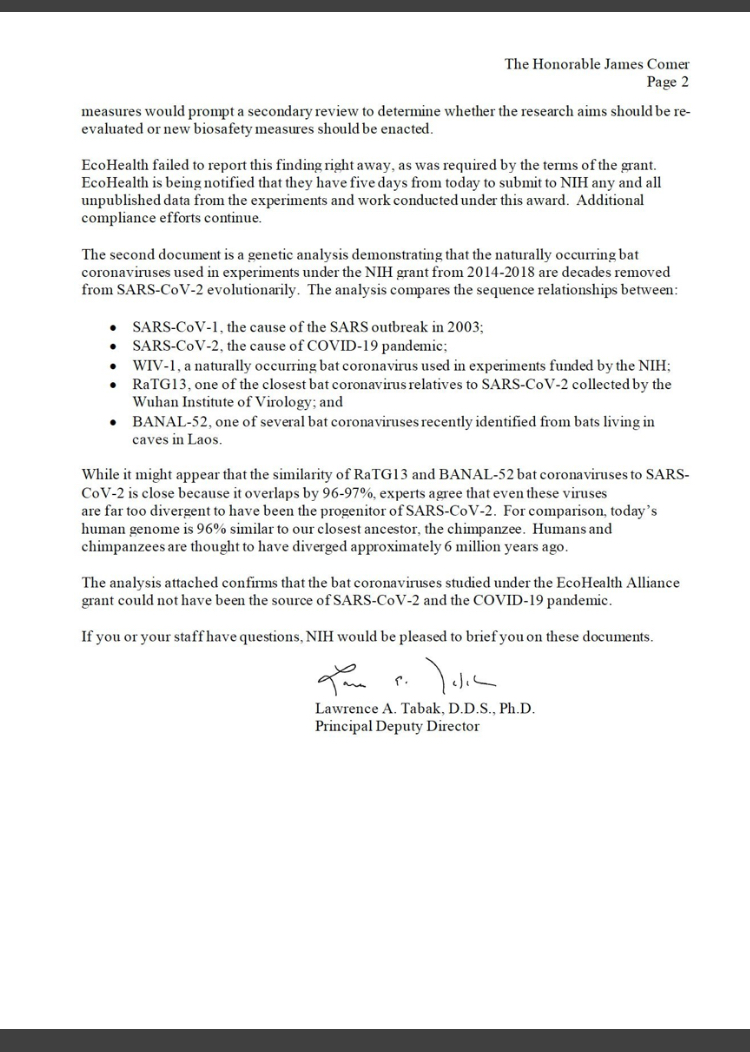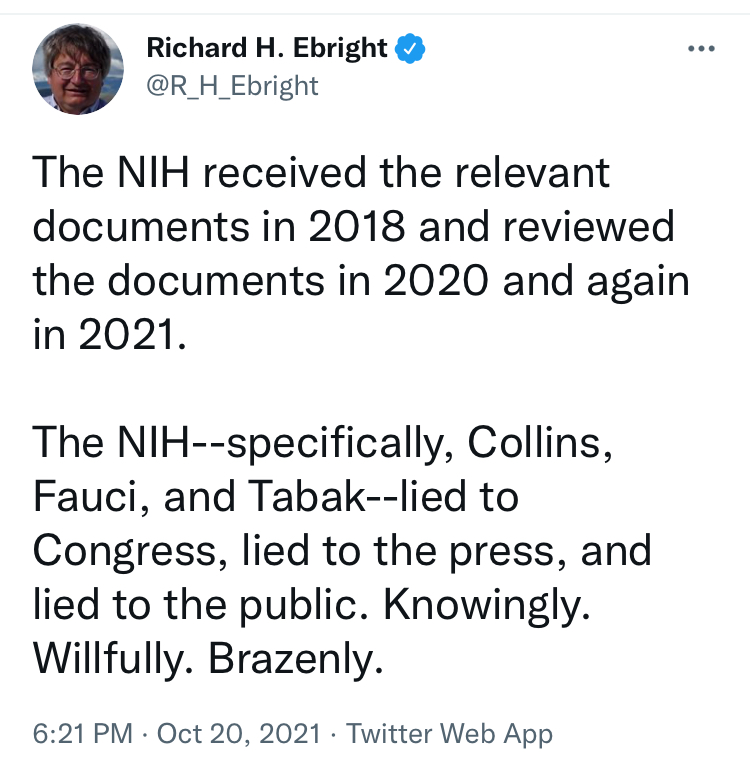 October 25, 2021 – the NIH altered a key portion of its website last week when the time it disclosed to Congress that experiments it funded in China met the definition of gain-of-function noting that the term refers to any research that modifies a biological agent in a way that confers new or enhanced activity to that agent. The explanation was wiped between Oct. 19 and Oct. 21.  The updated page now says that research involving enhanced potential pandemic pathogens (ePPPs) "is a type of so called 'gain-of-function' (GOF) research."   "The vast majority of GOF research does not involve ePPP and falls outside the scope of oversight required for research involving ePPPs." Oversight involving research on ePPPs is governed by a framework (pdf) issued by the U.S. government in late 2017, on the same day the NIH lifted its funding pause on most gain-of-function research.
November 28, 2021 – On Face the Nation, Fauci says, "I'm going to be saving lives, and they're going to be lying. All I want to do is save people's lives.  And, I mean, anybody who's looking at this carefully realizes that there's a distinct anti-science flavor to this. So if they get up and criticize science, nobody's going to know what they're talking about. But if they get up and really aim their bullets at Tony Fauci, well, people could recognize, there's a person there. So it's easy to criticize. But they're really criticizing science, because I represent science. That's dangerous. To me, that's more dangerous than the slings and the arrows that get thrown at me. And if you damage science, you are doing something very detrimental to society long after I leave."
January 11, 2022 – Letter from Rep Comer and Rep Jordan to HHS Secretary Bacerra requesting he release all emails between Fauci, Collins, Farzan and others that have been redacted indicating "(1) the potential that COVID-19 leaked from the Wuhan Institute Virology (WIV) and (2) the possibility that the virus was intentionally genetically manipulated."
Read entire pdf file
https://republicans-oversight.house.gov/wp-content/uploads/2022/01/Letter-Re.-Feb-1-Emails-011122.pdf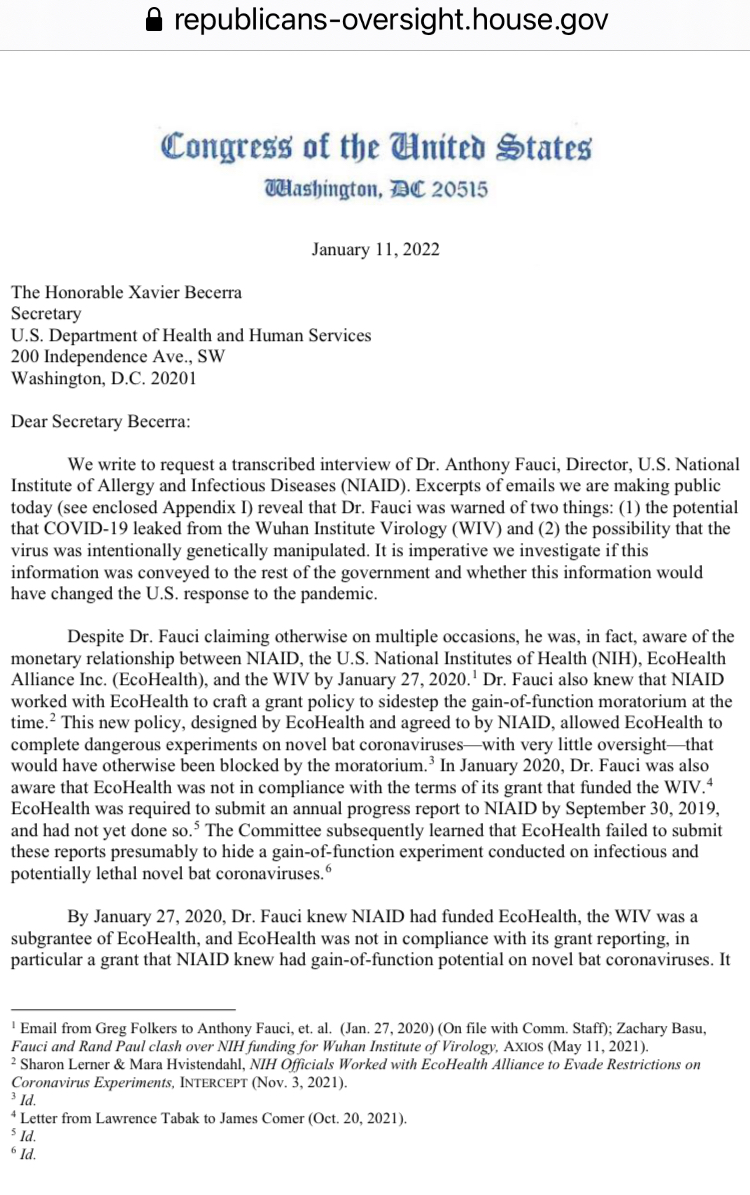 January 2022 – Johns Hopkins report COVID lockdowns had a little or no affect – reduced mortality by only 0.2%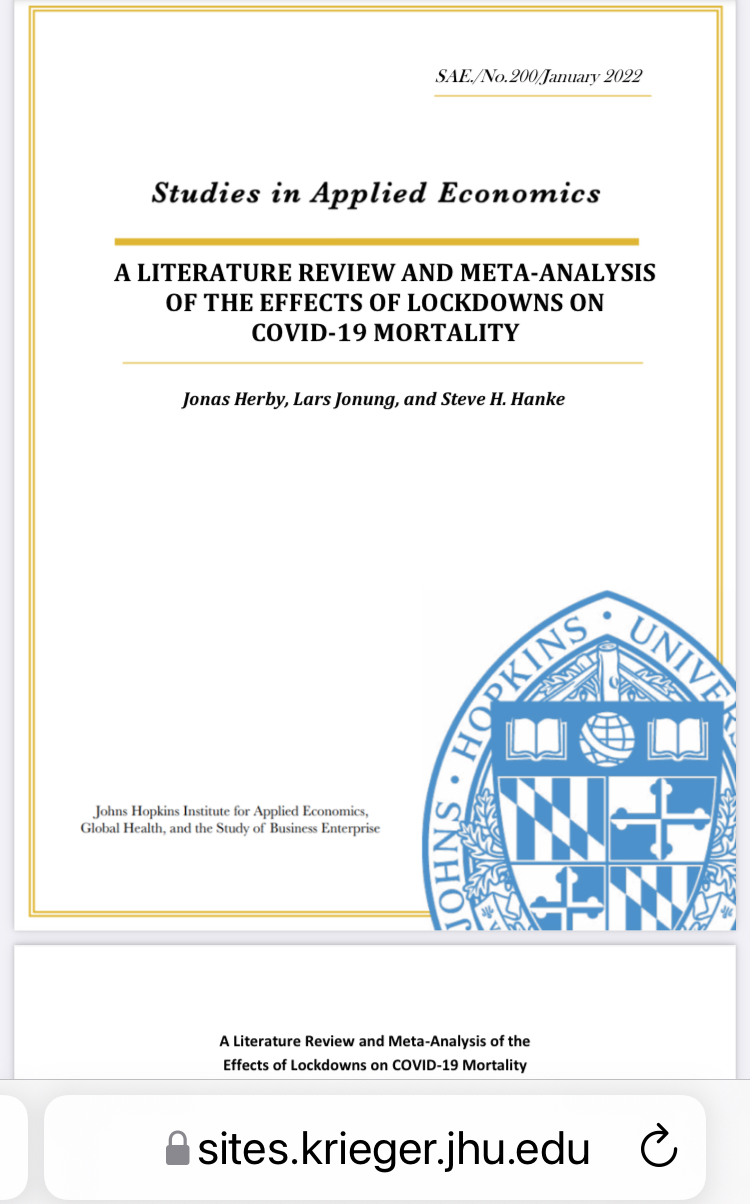 https://sites.krieger.jhu.edu/iae/files/2022/01/A-Literature-Review-and-Meta-Analysis-of-the-Effects-of-Lockdowns-on-COVID-19-Mortality.pdf
February 21, 2022 – Gates, at the Munich Security Conference, said, "Sadly, the variant Omicron is a type of vaccine and it has done a better job of getting out to the world population than we have with vaccines."  https://youtu.be/K5BBAcyfAio
February 28, 2022 – Wuhan Institute of Virology is now working on monkeypox viruses and assembling new variations of it. (Virologica Sinica)
March 8, 2022 – Under Secretary of State Victoria Nuland admits U.S. funds many biolabs that handle dangerous pathogens in Ukraine and that "we are concerned that Russian forces may be seeking to gain control of." Russia invaded Ukraine on February 24, 2022. 
In early February 2014, an intercepted leaked telephone conversation between Victoria Nuland, while Assistant Secretary of State for European and Euroasian Affairs 2013-2017, and the U.S. Ambassador, Geoffrey Pyatt, revealed that they were deciding who should lead Ukraine in a coup. She says, "I think Yats is the guy who's got the economic experience, the governing experience.  What he needs is Klitch and Tyahnybok on the outside.  Sullivan's come back to me VFR [direct to me] saying you need [US Vice President] Biden and I said probably tomoorow for an atta boy and to get the deets [details] to stick. So Biden's willing."   Then Nuland said, "Fuck the EU."  Pyatt said, "No, exactly."
The day after Russia invaded Ukraine, Robert Pope, Head of the Cooperative Threat Reduction Program at the Department of Defense, gave an interview with the Bulletin of the Atomic Scientists. Pope was in charge of securing or eliminating Soviet era bioweapons.  Pope acknowledged that not all of the Soviet bioweapons are being destroyed or are even secured. Some labs, he said, may hold pathogen strains left over from the Soviet bioweapons program, preserved in freezers for research purposes. Pope said, "Scientists being scientists, it wouldn't surprise me if some of these strain collections in some of these laboratories still have pathogen strains that go all the way back to the origins of that program."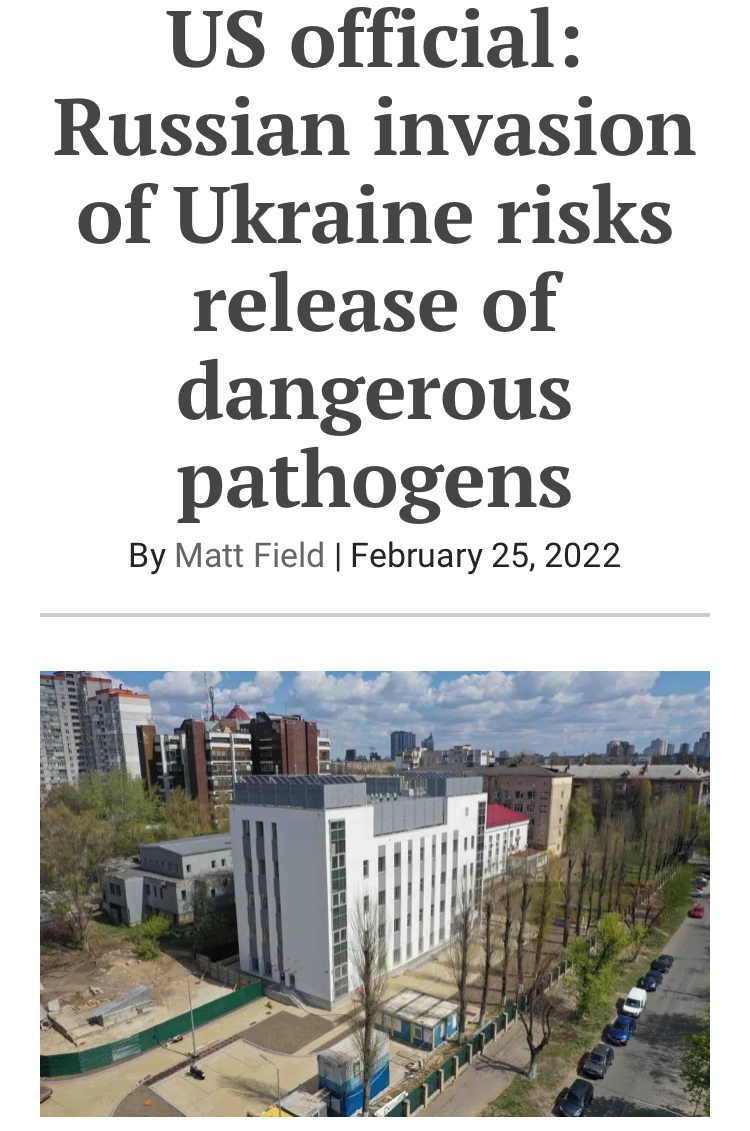 March 15, 2022 – Published paper shows that Covid-19 virus contains small amount of DNA that matches sequence patented by Moderna 3 years before pandemic began.  MSH3 Homology and Potential Recombination Link to SARS-CoV-2 Furin Cleavage Site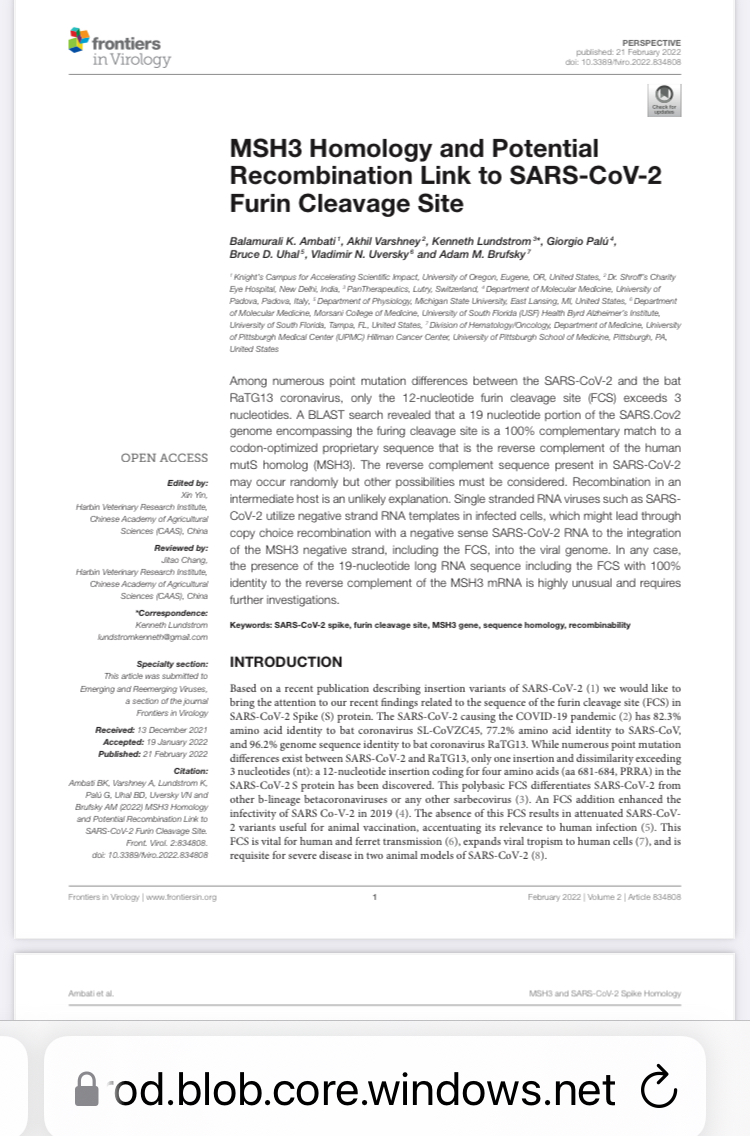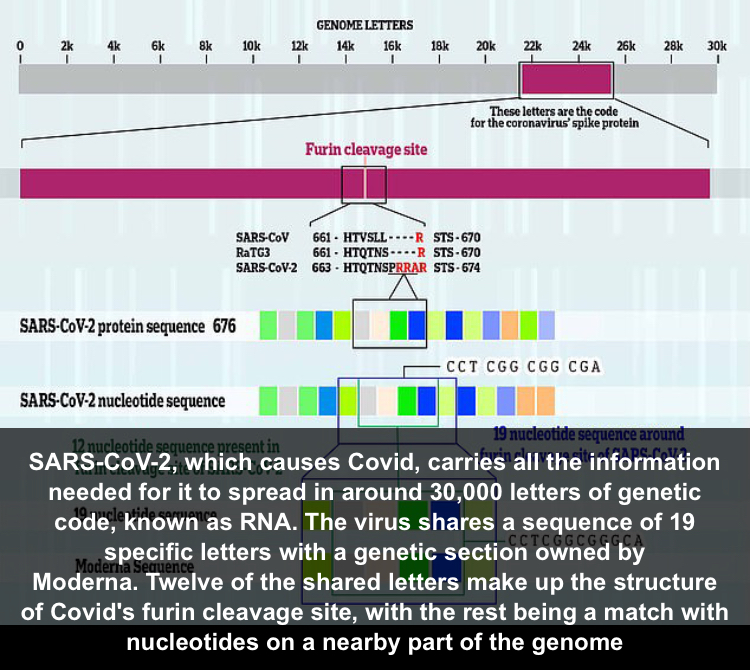 There is a 1 in 3 trillion chance that COVID developed the code naturally.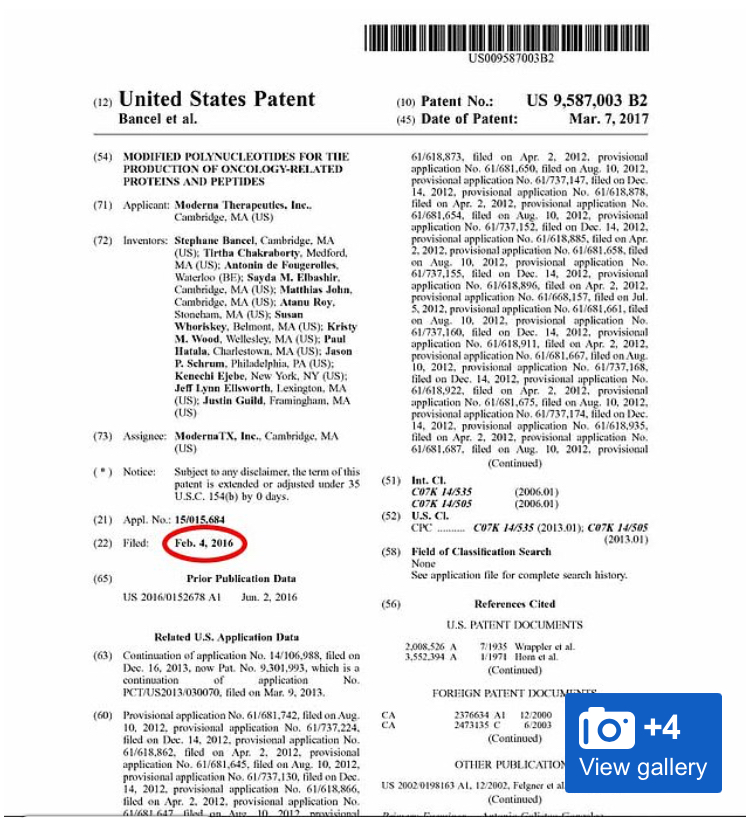 March 11, 2022 – The Pentagon admits to funding 46 Ukrainian "laboratories, health facilities, and diagnostic sites." 

June 30, 2022 – Major study corroborates serious adverse effects of the vaccine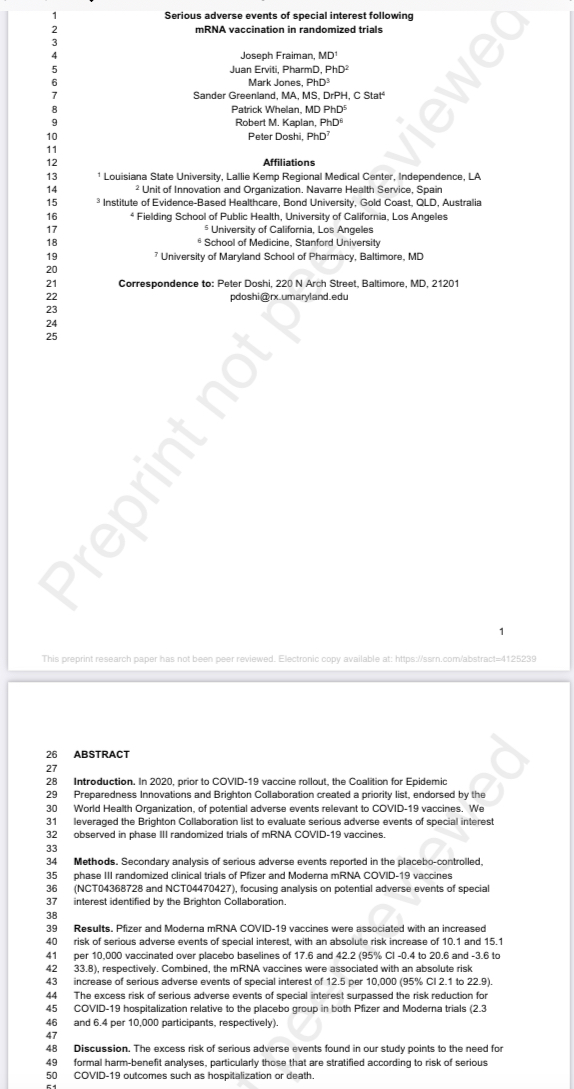 July 12, 2022 – Fauci admits that COVID-19 "vaccines do not protect overly well against infection."  Even though from the outset he said that this is one of the most highly effective vaccines
July 16, 2022 – Deborah Birx, MD was part of the White House Coronavirus Task Force from February 2020 to January 2021 and now says 'Covid came out of the box ready to infect' since most viruses take months or years to infect humans.
Also, "I knew these vaccines were not going to protect against infection. And I think we overplayed the vaccines."  Even though from the outset she said, "This is one of the most highly effective vaccines we have in our infectious disease arsenal" (ABC podcast at the time of the vaccine rollout).
August 22, 2022 – Tucker Carlson Tonight: Full Episode – Overview of Fauci's involvement as well as Collins' involvement in COVID-19 that I have written in the Report above – watch the first 21 minutes.
August 24, 2022 – CDC's COVID-19 prevention recommendations no longer differentiate based on a person's vaccination status."
August 26, 2022 – Megyn Kelly SLAMS Dr. Fauci and Reveals the Truth About His Lies: "GOOD RIDDANCE!"
September 30, 2022 – "Pregnancy and menstrual abnormalities (fetal abnormalities and fetal cardiac arrests) are more frequent after COVID-19 vaccines compared to influenza vaccines. 
October 3, 2022 – Fauci gave another $3.3 M to Daszak of EcoHealth Alliance to research the "potential for future bat coronavirus" supplying "viral sequences for use in vaccine development."
TOTAL UNITED STATES FUNDING TO WUHAN INSTITUTE OF VIROLGY FROM NIAID/NIH AND OTHER U.S. GOVERNMENT ENTITIES DIRECTLY OR VIA AN INTERMEDIARY (from https://www.usaspending.gov/search using the search word(s) Wuhan Institute of Virology, Wuhan).