We do not diagnose disease or recommend a dietary supplement for the treatment of disease. You should share this information with your physician who can determine what nutrition, disease and injury treatment regimen is best for you.  You can search this site or the web for topics of interest that I may have written (use Dr Simone and topic).  
"We provide truthful information without emotion or influence from the medical establishment, pharmaceutical industry, national organizations, special interest groups or government agencies."  Charles B Simone, M.MS., M.D.
GO EAGLES!!!! @Eagles
This January 1981 AFC Championship Game Ball (below) was given to Otho Davis by Dick Vermeil saying "No Trainer Deserves to be Called a Champion More Than You!  A Super Person Going to the Super Bowl."
Otho Davis in turn awarded this coveted ball to me for teaching the Eagles about Nutritional Hydration. Otho brought SIMONE SUPER ENERGY to the Eagles.
"I know first hand that Simone Super Energy works."
OTHO DAVIS
Athletic Trainer Philadelphia Eagles 23 yrs; 5 time Athletic Trainer of Year; founded National Athletic Trainer's Association, Director for 18 years. NATA headquarters renamed in his honor.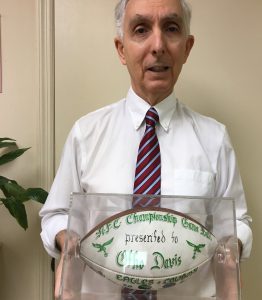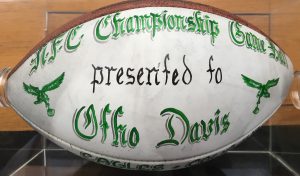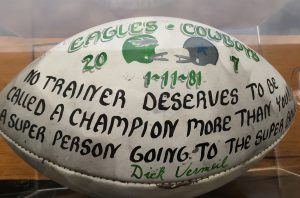 For some Super Bowl Games you saw a clear liquid being poured on the winning coach.
But more recently the liquid has been an orange color. I suspect that was mandated.
(c) 2018 Charles B Simone, M.MS., M.D.