NICOLE L. SIMONE, M.D. Inducted into Italian-American National Hall of Fame
Nicole L. Simone, M.D. is a Radiation Oncologist, Research Scientist, and Co-Leader of Sidney Kimmel Cancer Center Program at Jefferson University Hospitals in Philadelphia, PA, and community activist.  She was chosen because of her many outstanding accomplishments including cancer research and treatment, especially breast and prostate cancer by integrating a healthy low calorie diet that leads to better outcomes.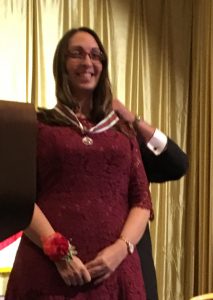 As someone who spends considerable time in the research lab, how do you see breast cancer treatment evolving?
It's exciting. I'm able to do the research and then immediately apply the results to our patients, so we're seeing the benefits of what we're discovering. It lifts the whole team.
What are some of those innovations?
Recent clinical trials have allowed us to understand that shortened courses of radiation therapy can be just as effective as the standard 30-day treatment with early-stage breast cancer. We're also doing more partial-breast radiation therapy, which allows us to spare more of the healthy breast tissue. And there's a new clinical trial that's going to evaluate the treatment of breast cancer with stereotactic body radiation therapy. Basically, it delivers a high but very precise dose of radiation. So, overall, we're decreasing the time women are receiving radiation during their treatment, as well as the toxicity of that radiation and the area that's exposed to it.
Can you tell us about the clinical trials you're conducting to study diet's effects on various conventional therapies?
We studied how caloric restriction would impact chemotherapy and radiation therapy. Because we had such positive results, we launched a few different clinical trials. In one, we're investigating the diet's influence right before surgery, and we're seeing that it's not only capable of slowing down tumor growth and improving the cancer-related biomarkers, but we're also finding that the bacteria in the gut is undergoing a positive change.