12/18/16 – Updated July 14, 2017
We do not diagnose disease or recommend a dietary supplement for the treatment of disease. You should share this information with your physician who can determine what nutrition, disease and injury treatment regimen is best for you.  You can search this site or the web for topics of interest that I may have written (use Dr Simone and topic).  
"We provide truthful information without emotion or influence from the medical establishment, pharmaceutical industry, national organizations, special interest groups or government agencies."  Charles B Simone, M.MS., M.D.
PROSTATE CANCER  FACTS
Lawrenceville, NJ (Dr Simone) – I will update this Report with evolving medical science.
PSA SCREENING RECOMMENDATIONS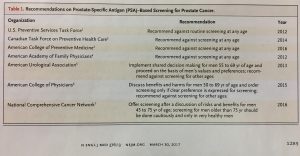 ACTIVE MONITORING, SURGERY, OR RADIATION – WHICH IS BETTER
We wrote about this topic in our book, The Truth About Prostate Health – Prostate Cancer. Many other reports have corroborated these salient facts. Lifestyle changes in addition can help to extend life.

Between 1999 and 2009 a total of 82,429 men 50 to 69 years old received a PSA test; 2664 were found to have localized prostate cancer, and 1643 agreed to be randomized.  At the end of 10 years, death from prostate cancer was low irrespective of the treatment group:
     Active Monitoring – 8 died of the 545 men
     Surgery – 5 died of the 553 men
     Radiation Therapy – 4 died of the 545 men
The surgery and radiation therapy groups had lower rates of metastases and disease progression compared to those in the active monitoring group. (http://www.nejm.org/doi/full/10.1056/NEJMoa1606220#t=article ; Hamdy et al. N Engl J Med 2016; 375:1415-1424October 13, 2016DOI: 10.1056/NEJMoa1606220). 
ACTIVE MONITORING IS SLIGHTLY BETTER THAN SURGERY FOR LOCAL PROSTATE CANCER 731 men with localized prostate cancer were followed for 20 years. Surgery was not better than active monitoring alone. In fact, surgery caused more adverse events (http://www.nejm.org/doi/full/10.1056/nejmoa1113162#t=article ). 
ROBOT PROSTATECTOMY – HIGHER COSTS, NOT SAFER, NOT BETTER

  Robot-Assisted Radical Prostatectomy is not safer than Open Radical Prostatectomy and is much more costly. 6310 patients were studied: 59% had Robot Assisted surgery while 41% had Open Radical Prostatectomy. Both groups had the same rates of complications, re-admissions, and additional cancer therapies (J Clin Oncol 2014; 32:1419-1426)  https://www.simonesuperenergy.com/robot-prostatectomy-higher-costs-not-safer-not-better/ 
​ORCHIECTOMY VERSUS GONADOTROPIN-RELEASING HORMONE AGONIST
     Between 1995 and 2009, 3295 men were treated either with orchiectomy (surgical removal of testicles) or gonadotropin-releasing hormone agonists ("hormone shots"). Men treated with gonadotropin-releasing hormone agonists ("hormone shots") had bone fractures, peripheral arterial disease, venous thromboembolism, cardiac-related complications, and diabetes.  Patients who received bilateral orchiectomy had significantly lower risks for all of the above complications.  (Sun et al. JAMA Oncol. 2016 Apr;2(4):500-7. doi: 10.1001/jamaoncol.2015.4917.  https://www.ncbi.nlm.nih.gov/pubmed/26720632 )

INTERMITTENT VERSUS CONTINUOUS ANDROGEN DEPRIVATION IN PROSTATE CANCER
     Between 2000 and 2013, 6856 patients were studies.  Survival and progression-free survival was the same for those who received intermittent treatment compared to those who received continuous androgen deprivation.  Intermittent treatment was best because there was improvement in physical and sexual functioning (Hussain et al. N Engl J Med 2013; 368:1314-1325April 4, 2013DOI: 10.1056/NEJMoa1212299 http://www.nejm.org/doi/full/10.1056/NEJMoa1212299#t=article; Klotz and Higano.  JAMA Oncol. Dec 2016; 2(12):1531-1532)
THE 20-YEAR RISK OF PROSTATE CANCER DEATH IS LOW (3.6%) IN MEN WITH INITIAL BENIGN BIOPSY AND CURRENT PSA OF 10 OR LOWER. (Klemann, et al. Lancet Oncol 2017; 18:221-29).
(c) 2017 Charles B. Simone, M.MS., M.D.