We do not diagnose disease or recommend a dietary supplement for the treatment of disease. You should share this information with your physician who can determine what nutrition, disease and injury treatment regimen is best for you.  You can search this site or the web for topics of interest that I may have written (use Dr Simone and topic).  
"We provide truthful information without emotion or influence from the medical establishment, pharmaceutical industry, national organizations, special interest groups or government agencies."  Charles B Simone, M.MS., M.D.
HYDROXYCHLOROQUINE SAVES LIVES
Lawrenceville, NJ (Charles Simone, M.MS., M.D.) – The Henry Ford COVID-19 Task Force clinicians at the Henry Ford Health System in Detroit, Michigan did an observational study from a single institution involving 2,541 patients and published their findings in

 the 

International Journal of Infectious

Diseases

 (

accepted date June 29, 2020) entitled, Treatment with Hydroxychloroquine, Azithromycin, and Combination in Patients Hospitalized with COVID-19

.
The Henry Ford Health System is composed of six large hospitals, the largest is an 802-bed quaternary academic teaching hospital in urban Detroit.  Consecutive patients hospitalized with a COVID-related admission in the health system from March 10, 2020 to May 2, 2020 were included.
Their Conclusion: "According to a protocol-based treatment algorithm, among hospitalized patients, use of hydroxychloroquine alone and in combination with azithromycin was associated with a significant reduction in-hospital mortality compared to not receiving hydroxychloroquine."  Steroids were also used.
Hydroxychloroquine and Ivermectin are lysosomotropic agents that should be used within the first five days of exposure to SARS-CoV 2 (COVID-19).  These medicines cross the lysosomal membrane and become protonated thus increasing the
lysosome's 
pH (alkaline)
rendering the lysosome nonfunctional.  These medicines include Hydroxychloroquine and Ivermectin. 
May 31, 2021 – Observational Study on 255 Mechanically Ventilated Covid Patients at the Beginning of the USA Pandemic authors from Saint Barnabas Medical Center, Livingston, New Jersey
Conclusions: "We found that when the cumulative doses of two drugs, Hydroxychloroquine and Azithromycin, were above a certain level, patients had a survival rate 2.9 times the other patients."

Hydroxychloroquine – 400 mg twice daily for 2 doses on day 1, followed by 200 mg twice daily on days 2-5.
Azithromycin – 500 mg once daily on day 1 followed by 250 mg once daily for the next 4 days. The combination of hydroxychloroquine+azithromycin was reserved for selected patients with severe COVID-19 and with minimal cardiac risk factors.
An electrocardiogram QTc>500ms constituted an elevated cardiac risk and consequently hydroxychloroquine was reserved for patients with severe disease with telemetry monitoring and serial QTc checks.
Jan 28, 2021 –

FACEBOOK and AMERICAN JOURNAL OF MEDICINE admit their position on hydroxychloroquine was wrong.
Early use of hydroxychloquine had a 79% lower mortality rate in countries that allowed the use of the safe drug.

A new study in the American Journal of medicine in January showed a much lower mortality rate for patients with COVID-19 being treated with hydroxychloroquine while still at home. Also today the Facebook Oversight Board said it overturned its previous case on the effectiveness of HCQ.
---

The following is provided by HCQMETA.com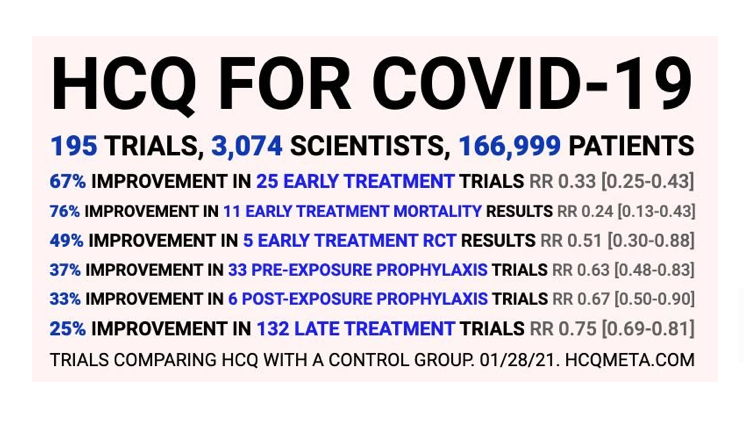 Think of all the doctors, politicians, federal agencies, media, big tech that have told you that hydroxychloroquine was dangerous and not to be used.   
Think of how many lives could have been saved.
Observational Versus Randomized Clinical Studies
Compared to randomized studies, observational studies are less costly, can be done more quickly, and have a broader range of patients. Observational studies provide valid information and virtually the same results as randomized studies, a finding that differs from previous conclusions.  Furthermore, "Observational studies do not overestimate the magnitude of the effects of treatment compared with those in randomized trials on the same topic." (Simone, CB et al. ANTIOXIDANTS AND OTHER NUTRIENTS DO NOT INTERFERE WITH CHEMOTHERAPY OR RADIATION THERAPY AND CAN INCREASE KILL AND INCREASE SURVIVAL, PART 1)  
Hydroxychloroquine is inexpensive and has been used for decades as an antimalarial and immunomodulatory agent and is safer than chloroquine.
On August 22, 2005 the Centers for Disease Control and Prevention published "Chloroquine is a potent inhibitor of SARS coronavirus infection and spread." 

Virol J.

 2005 Aug 22;2:69. 
The CDC postulated that chloroquine works by blocking the virus from attaching to the human cell's receptor, and other researchers have shown hydroxychloroquine can increase intracellular pH that results in decreased ability of the virus to invade the cell.  Hydroxychloroquine has anti-thrombotic effects, and also decreases production of cytokines especially IL-1 and IL-6.  Azithromycin, an antibiotic, can decrease viral replication and block the virus from attaching to the human cell's receptor.
A small French trial reported promising results with six days of treatment with hydroxychloroquine alone or hydroxychloroquine in combination with azithromycin versus untreated control group (70% vs 12.5%; P < 0.001). However, the Henry Ford COVID-19 Task Force clinicians cite ten early studies of hydroxychloroquine with conflicting results but their own study shows that hydroxychloroquine saves lives.
Now there are clinical trial data for all physicians and the FDA: "use of hydroxychloroquine alone and in combination with azithromycin was associated with a significant reduction in-hospital mortality compared to not receiving hydroxychloroquine."
© 2020 Charles B. Simone, M.MS., M.D.