We do not diagnose disease or recommend a dietary supplement for the treatment of disease. You should share this information with your physician who can determine what nutrition, disease and injury treatment regimen is best for you.  You can search this site or the web for topics of interest that I may have written (use Dr Simone and topic).  
"We provide truthful information without emotion or influence from the medical establishment, pharmaceutical industry, national organizations, special interest groups or government agencies."  Charles B Simone, M.MS., M.D.
ROGER AILES FOX NEWS CALLED FOR DR SIMONE DURING 911  
Lawrenceville, NJ (Dr Charles B Simone) – Roger Ailes, CEO Fox News, played by Russell Crowe in "The Loudest Voice" called for more interviews with Dr Simone during the weeks following September 11, 2001 – "an anthrax expert, get him, book him, he was good."
During the days and weeks following September 11, 2001, Fox News Channel called upon Dr. Charles Simone MD nine times to explain and discuss these horrific terrorist attacks. He informed the public about what they can do to save and protect themselves. Six months prior to September 11, 2001 he wrote HOW TO SAVE YOURSELF FROM A TERRORIST ATTACK that was published within days of the attack.
For several of Dr. Simone's Fox News Channel interviews during that time period:

https://bit.ly/2fdtid2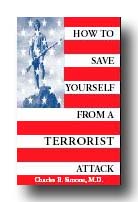 (c) 2019 Charles B. Simone, M.MS., M.D.