We do not diagnose disease or recommend a dietary supplement for the treatment of disease. You should share this information with your physician who can determine what nutrition, disease and injury treatment regimen is best for you.  You can search this site or the web for topics of interest that I may have written (use Dr Simone and topic).  
"We provide truthful information without emotion or influence from the medical establishment, pharmaceutical industry, national organizations, special interest groups or government agencies."  Charles B Simone, M.MS., M.D.
DRUGS / RISK FACTORS INCREASE RISK FOR SARS-CoV-2 (COVID-19) INFECTION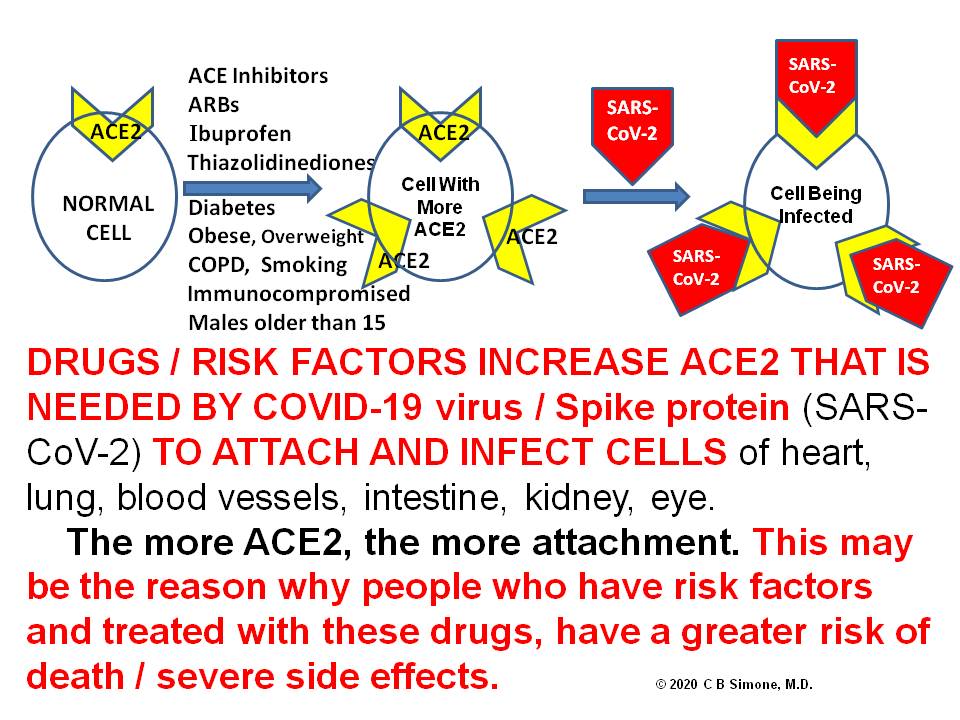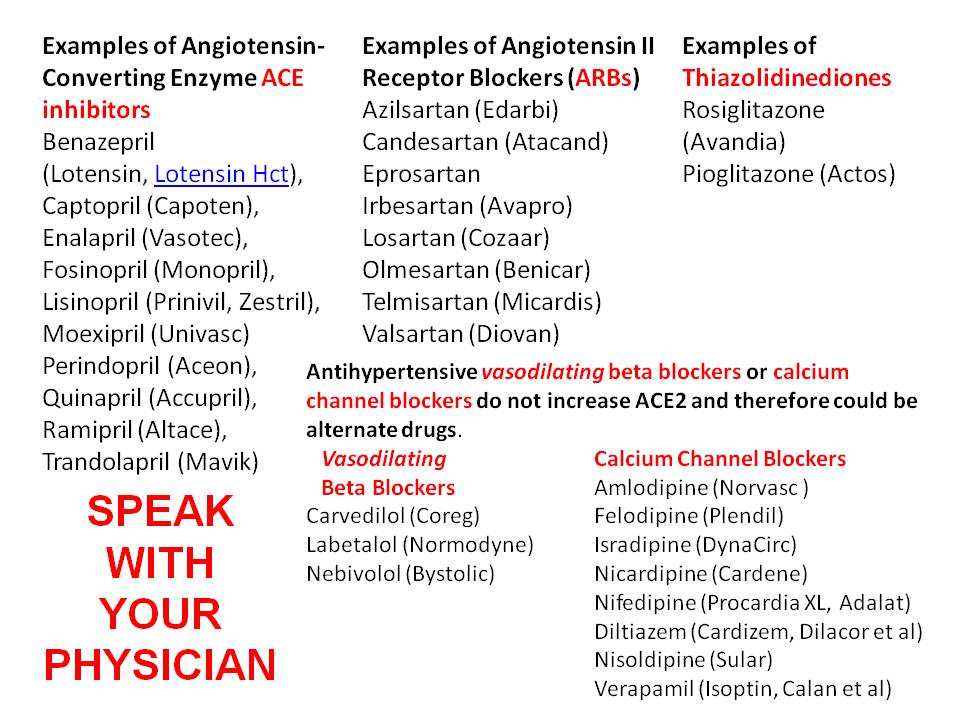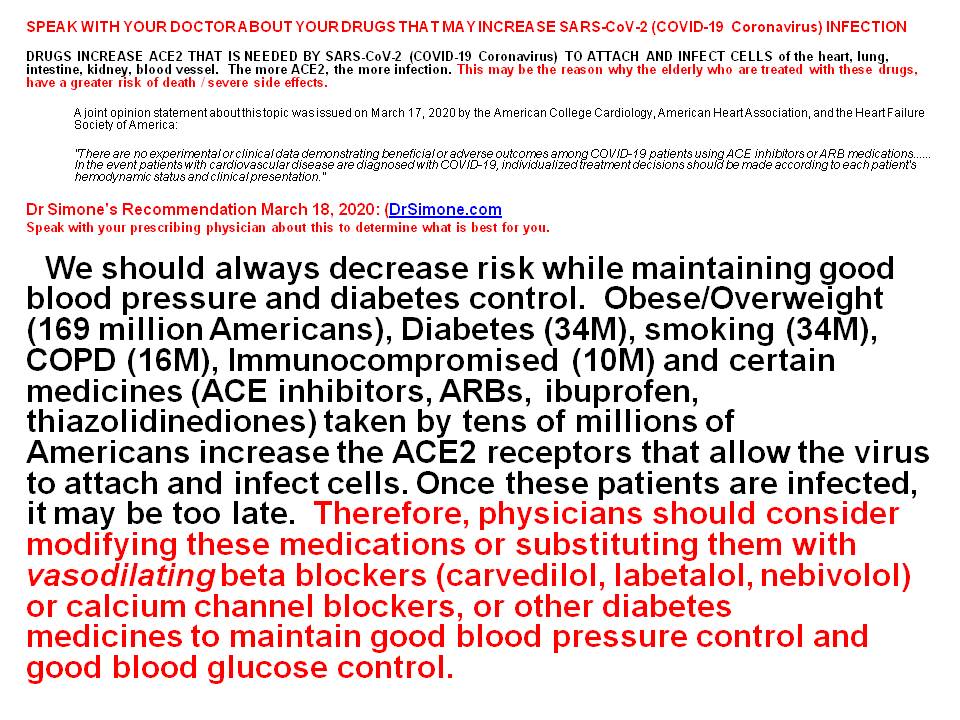 ACE inhibitors, ARBs, IBUPROFEN, THIAZOLIDINEDIONES AND DIABETES MAY CONFER HIGHER RISK FOR

SARS-CoV-2 (COVID-19)
Lawrenceville, NJ (Dr Charles Simone) – It is known that coronaviruses (SARS-CoV – severe acute respiratory syndrome coronavirus, and SARS-CoV-2) bind to target cells via angiotensin-converting enzyme 2 (ACE2) [1]. 
COVID-19 coronavirus attaches and binds to their target cells through ACE2 protein sites on cells of the lung, intestine, kidney, and blood vessels [1]. 
ACE2 sites are increased [2] by :
Ibuprofen – taken by millions of Americans
Anti-hypertension medicines like: taken by tens of millions of Americans
ACE (angiotensin-converting enzyme) inhibitors
ARBs (angiotensin II type-I receptor blockers)
Thiazolidinediones (used to treat diabetes)
Diabetes – 34 million Americans
Obesity / Overweight – 169 million Americans
Having COPD – 16 million Americans
Smoking – 34 million Americans
Immunocompromised – 10 million Americans
The most frequent comorbidities (cerebrovascular diseases, diabetes, hypertension, obesity/overweight, coronary artery disease) reported so far of patients with COVID-19 are usually treated with angiotensin-converting enzyme (ACE) inhibitors, although this was not indicated in the studies. 
This higher amount of ACE2 will increase infection with COVID-19 and consequently can increase the risk for severe and fatal COVID-19.
Antihypertensive vasodilating beta-blockers and calcium channel blockers do not increase ACE2 and therefore could be alternate drugs to ACE Inhibitors and ARBs [3].  ACE Inhibitors have been shown to increase the risk of lung cancer in studies from the United Kingdom and Denmark (Use of ACE (Angiotensin-Converting Enzyme) Inhibitors and Risk of Lung Cancer 
https://www.ahajournals.org/doi/10.1161/CIRCOUTCOMES.120.006687

).
Vasodilating beta-blockers (like carvedilol) can reverse ventricular remodeling and prolong survival in heart failure patients (Beta blockers: effects Beyond Heart Rate Control, A Review

https://www.scireslit.com/Cardiology/IJCCR-ID30.php
Speak with your prescribing physician.
Examples of Angiotensin-Converting Enzyme (ACE) inhibitor
Captopril (Capoten),

Enalapril (Vasotec),

Fosinopril (Monopril),

Lisinopril (Prinivil, Zestril),

Moexipril (Univasc)

Perindopril (Aceon),

Quinapril (Accupril),

Ramipril (Altace), 

Trandolapril (Mavik).
Examples of Angiotensin II Receptor Blockers (ARBs) include:
Azilsartan (Edarbi)

Candesartan (Atacand)

Eprosartan

Irbesartan (Avapro)

Losartan (Cozaar)

Olmesartan (Benicar)

Telmisartan (Micardis)

Valsartan (Diovan)
Examples of Thiazolidinediones include:
Rosiglitazone (Avandia)

Pioglitazone (Actos)
Antihypertensive vasodilating beta blockers or calcium channel blockers do not increase ACE2 and therefore could be alternate drugs.
Vasodilating  Beta Blockers
Carvedilol (Coreg)

Labetalol   (Normodyne) 

Nebivolol (Bystolic)   
Calcium Channel Blockers include:
Norvasc (amlodipine)

Plendil (felodipine)

DynaCirc (isradipine)

Cardene (nicardipine)

Procardia XL, Adalat (nifedipine)

Cardizem, Dilacor, Tiazac, Diltia XL (diltiazem)

Sular (Nisoldipine)

Isoptin, Calan, Verelan, Covera-HS (verapamil) 
A joint opinion statement about this topic was issued on March 17, 2020 by the American College Cardiology, American Heart Association, and the Heart Failure Society of America [4]:
"There are no experimental or clinical data demonstrating beneficial or adverse outcomes among COVID-19 patients using ACE inhibitors or ARB medications. … In the event patients with cardiovascular disease are diagnosed with COVID-19, individualized treatment decisions should be made according to each patient's hemodynamic status and clinical presentation." 
Dr Simone's Recommendation March 18, 2020:
Speak with your prescribing physician about this to determine what is best for you. 
We should always decrease risk while maintaining good blood pressure and diabetes control.  Obese/Overweight (169 million Americans), Diabetes (34M), smoking (34M), COPD (16M), Immunocompromised (10M) and certain medicines (ACE inhibitors, ARBs, ibuprofen, thiazolidinediones) taken by tens of millions of Americans increase the ACE2 receptors that allow the virus to attach and infect cells. Once these patients are infected, it may be too late.  Therefore, physicians should consider modifying these medications or substituting them with vasodilating beta blockers (carvedilol, labetalol, nebivolol) or calcium channel blockers, or other diabetes medicines to maintain good blood pressure control and good blood glucose control.
[1] Wan Y et al. Receptor recognition by novel coronavirus from Wuhan: An analysis based on decade-long structural studies of SARS. J Virology.

2020; 

(

published online Jan 29

). DOI:10.1128/JVI.00127-20
[2] Li XC et al. The vasoprotective axes of the renin-angiotensin system: physiological relevance and therapeutic implications in cardiovascular, hypertensive and kidney diseases. Pharmacol Res.

2017; 125

: 

21-38

. 
[3] Fang L, et al. Are patients with hypertension and diabetes mellitus at increased risk for COVID-19 infection? Lancet Respiratory Medicine. March 11, 2020. 

https://doi.org/10.1016/S2213-2600(20)30116-8
[4] 
Patela VB et al. 
COMMENTARY ACE2/Ang 1-7 axis: A critical regulator of epicardial adipose tissue inflammation and cardiac dysfunction in obesity. 
ADIPOCYTE 2016, VOL. 5, No. 3, 306–311 http://dx.doi.org/10.1080/21623945.2015.1131881
© 2020 Charles B. Simone, M.MS., M.D.